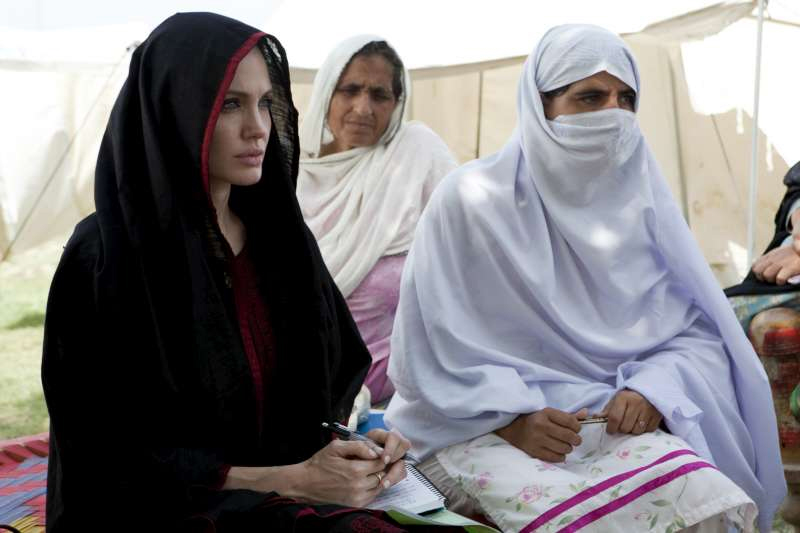 Pakistan is in the midst of one of the greatest humanitarian crises the country has ever faced, and that's saying something, because Pakistan has a horrible history with humanitarian crises. The latest crisis began with the devastating flooding that left large, populated areas on Pakistan uninhabitable, and destroyed hundreds of thousands of homes. So far, 1,700 people have lost their lives, and hundreds of thousands of Pakistanis have been displaced. Angelina Jolie addressed the Pakistani flooding several weeks ago, when she was on the European promotional tour for Salt, and the UNHCR announced that she had donated $100,000, directed to the UNHCR mission in Pakistan. Jolie also made a PSA last week to encourage others to donate to the UNHCR mission. Yesterday, Angelina flew to Pakistan via Heathrow, and now she's on the ground trying to bring attention to the refugee camps and the lack of funding:
JALOZAI, Pakistan — American movie star Angelina Jolie met flood victims in northwestern Pakistan on Tuesday and appealed to the international community to provide aid needed to help the country recover from its worst natural disaster.

The flow of aid money has stalled in recent days, and officials expressed hope the two-day visit by Jolie – who serves as a "goodwill ambassador" for the U.N.'s refugee agency – will convince foreign countries and individuals to open their wallets.

The 35-year-old actress said she met with many people whose lives have been devastated by the floods, including mothers who lost their children and an elderly Pakistani couple who feared they would never be able to rebuild the home they lost.

"I am very moved by them and I hope that I am able to, today and tomorrow, be able to do something to help bring attention to the situation for all of the people in need in Pakistan," Jolie told reporters after visiting a refugee camp in the Jalozai area.

She toured the area wearing a long black robe and a black headscarf adorned with a thin red stripe – the kind of conservative clothing worn by many Muslim women in Pakistan.

The floods began in the northwest at the end of July after extremely heavy monsoon rains and slowly surged south along the Indus River, swallowing up hundreds of villages and towns and killing more than 1,700 people. Another 17 million have been affected by the floods, and many will need emergency assistance to survive.

The United Nations issued an appeal for $460 million in emergency funds on Aug. 11, but only $294 million, or 64 percent, has been received so far, and donations have more or less dried up in recent days.

Ajay Chhibber, a U.N. assistant secretary general, said he hopes Jolie's visit will have "a very big impact" on the inflow of aid money and will keep people focused on the crisis.

"We need more … well-known figures who can keep the spotlight and focus because people tend to forget internationally," said Chhibber, who is also the U.N. development agency's regional director for Asia. He spoke to reporters during a visit to Islamabad.
[From The Huffington Post]
Just pulling from my own memory, I think this is Angelina's fourth UNHCR trip to Pakistan through her decade of service to the UNHCR. When she first went, the refugee crisis was about the hundreds of thousands of Afghan refugees who had fled their country to avoid Russian, and then Taliban rule. Then it was the devastating earthquake in 2005. And now the flooding. These poor people.
Here's the UNHCR donation page – this is for general donations, but if you want to direcct your money specifically to the UNHCR's mission in Pakistan, go here.
Header: Angelina Jolie in Pakistan on Sept. 7, 2010. Photo courtesy of the UNHCR.