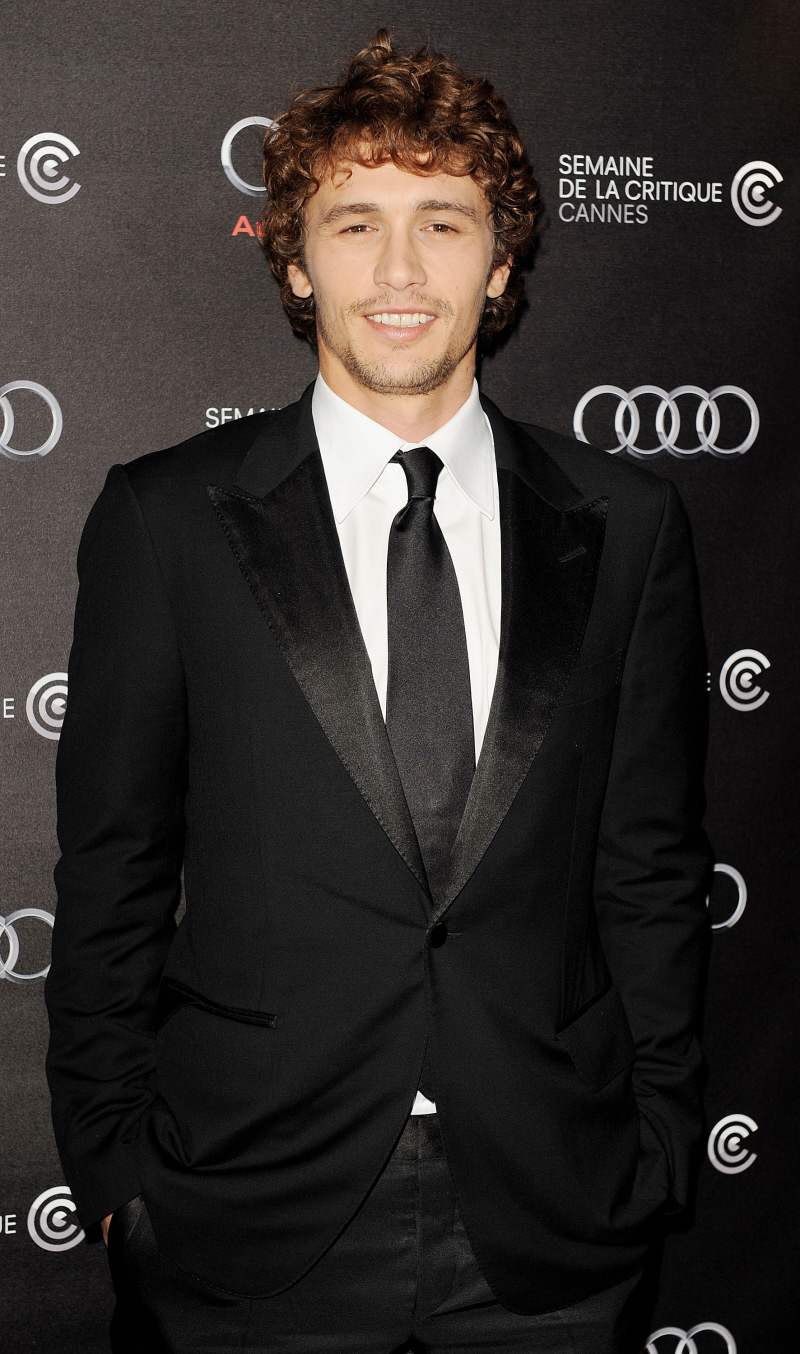 A lot of you hated on me when I hated on James Franco's Esquire profile. In my defense, I went to a liberal arts college, and I avoided dudes like James Franco like the plague, and I tend to think they're even worse when they're still pulling this stuff when they're older. I give Franco credit for being smarter than a lot of actors in his age group, and I give him credit for having interests beyond Hollywood. But this artsy-fartsy, "let's do some 'found art' with an Esquire journalist" schtick is… meh. Beyond that, though, I do like him. In small doses. I think he's a very talented actor, and I appreciate that he's trying to be a better artist, and that he's not content to be the pretty boy.
Anyway, Franco is in Telluride to promote his role in Danny Boyle's 127 Hours, that film about the dude (jackass?) who got stuck in a crevice and had to saw his own arm off with a dull knife. I talked about the trailer here – Franco is perhaps playing the dude as reckless and vaguely douchey. In any case, Franco talked explicitly about one particular scene in which his character masturbates.
James Franco engaged in some TMI while promoting "127 Hours" at the Telluride Film Festival this weekend. In Danny Boyle's action flick, which stars Franco as real-life mountaineer Aron Ralston, the main character is shown pleasuring himself while stuck under a boulder before he is forced to cut off his own arm with a blunt knife to free himself.

Franco told the Hollywood Reporter that Ralston never admitted to masturbating while trapped in the Utah Mountains for several days, but that he could still relate to the scene.

"When I'm alone, I do masturbate a lot. I tend to have a four- or five-time day," the hotel-hopping star told the industry website with a laugh. "So, I probably would have if I was stuck under a rock."

But Franco added that even if Ralston did pleasure himself before he severed his own arm, he would never admit it in public.

"He's kind of a gentleman, I guess he doesn't talk about that stuff," the 32-year-old actor told the Hollywood Reporter.
[From The NY Daily News]
As a lady, I can freely admit that if I was forced to masturbate four or five times a day, I don't think I would be able to walk. Or do anything, really. How could a lady function if she was masturbating five times a day? My limit is twice a day, and that has to be a special occasion, like new Clive Owen photos or something. Five times a day?!? How does Franco has any time to do his "art"? Also: note to Franco – I believe there are lots of ladies who would love to "help a brother out."
Header: Franco on May 20, 2010. Credit: WENN.