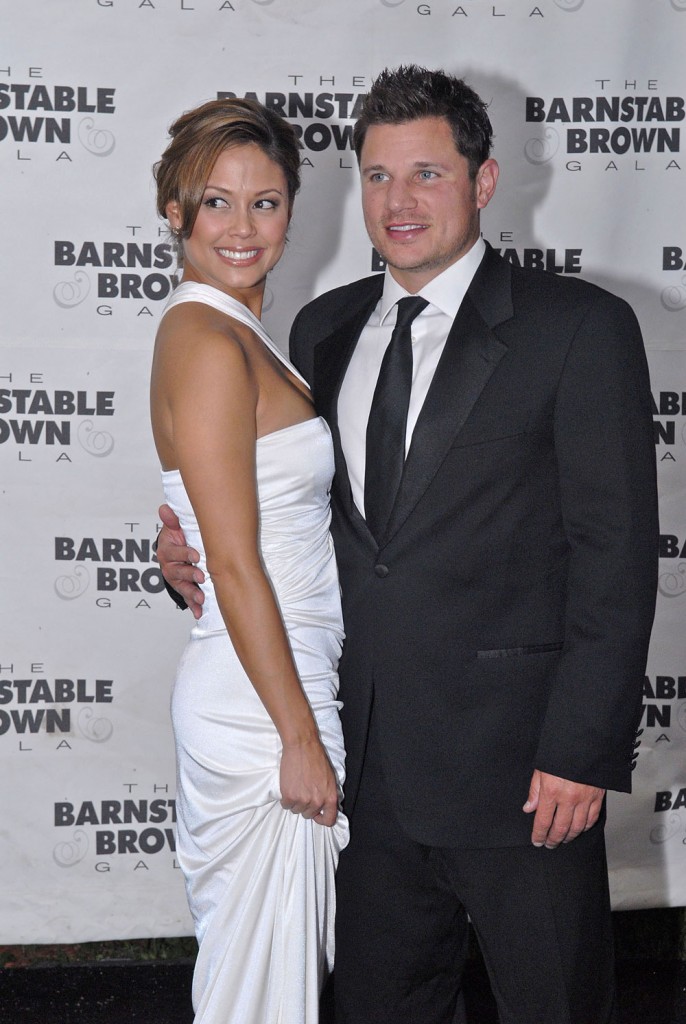 Back in June, the National Enquirer reported that Nick Lachey and his longterm girlfriend, Vanessa Minnillo, were trying to land their own reality show. Supposedly producers were telling them "the project needed a hook" so Vanessa was actively trying to get pregnant in order to sell that plotline. Romantic, isn't it? I was hoping this story wasn't true, because I remember how Lachey cried to a reporter for Rolling Stone after his marriage with Jessica Simpson ended and explained that doing the reality show had negatively impacted their relationship. He didn't blame the show for the disintegration of his marriage, but he did say a bunch of things about how it was a bad experience for them. He said "Jessica and I began playing these parts even when we were by ourselves. It became a really blurred line. There was a question about what truly was our reality. When you are on a reality show, your life ceases to be reality. It becomes TV."
Now OK! Magazine is reporting that Nick and Vanessa are planning on getting married and are pitching some kind of Newlyweds 2.0 show, except it somehow feature other newlyweds in order to take away the boredom factor. I wonder if anyone is even remotely interested. We haven't heard much from these two lately.
Nick Lachey and girlfriend Vanessa Minnillo were recently spotted talking with NBC execs. An insider tells OK!

"They are exploring an idea to get married and do a show about newlyweds. It would help Nick relaunch his career and Vanessa take her career to the next level."

The idea worked well in the past – Newlyweds, starring Nick and then-wife Jessica Simpson, was a ratings hit for MTV and the talk of the nation from 2003 to 2005.
[From OK! Magazine, print edition, September 20, 2010]
Yes the idea worked well – for MTV, not for Nick and Jessica on any level. Reading Nick's Rolling Stone interview over again, I'm struck by what an emotional committed guy he is. He really loved Jessica and he was heartbroken that they broke up. I watched that Newlyweds show a few times and I remember really liking him. He's watchable, and people might be interested in seeing him again with his Vanessa. He's only screwing over his relationship by trying to feature it on television, though. I would think he would have realized that after all he went through, but tough times must have convinced him otherwise. I'm glad these two are solid, though. They seem like they're so in love.
Photos are from 4/20/10, 2/10/10, and 6/5/10 (candids). Credit: WENN and Fame