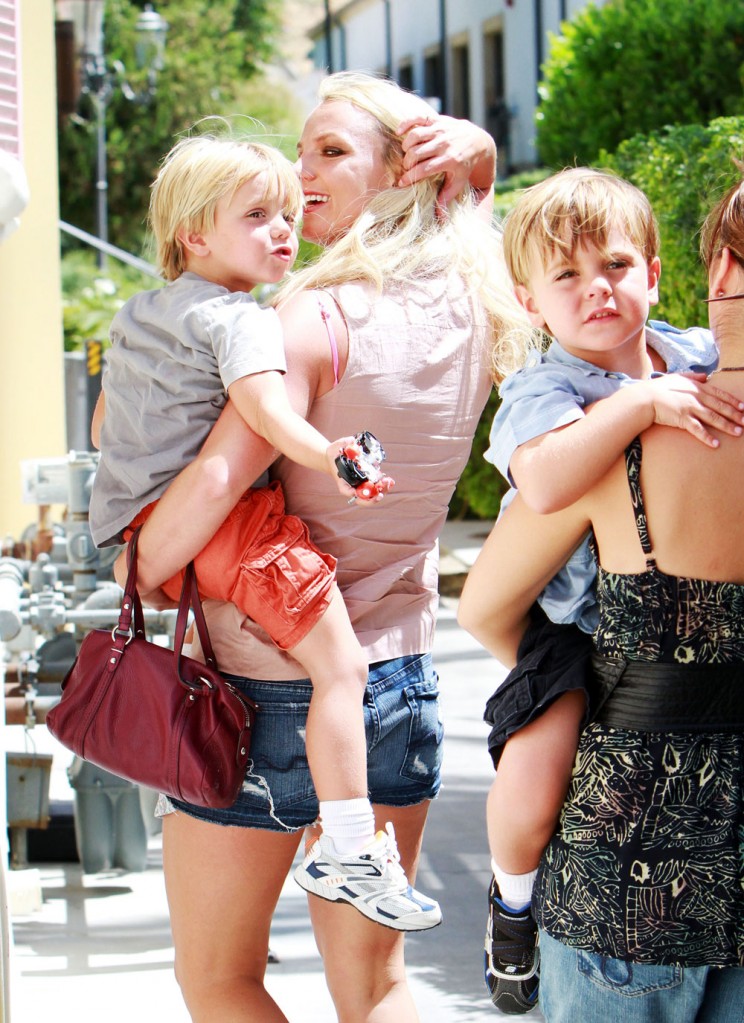 An ex bodyguard of Britney Spears has filed a lawsuit for sexual harassment and emotional distress. Fernando Flores worked or Britney from February to May of this year and alleges that the 28 year-old pop singer repeatedly exposed herself to him along with abusing her two sons, which he supposedly witnessed. We've heard this from Flores before as he first spoke to the press in June, telling British paper The Sun that Britney often walked around naked and was seen hitting little Sean Preston with a belt. Britney was investigated by CPS and cleared after that claim.
Here are details from TMZ* Radar quotes a source who says that Flores "doesn't want to settle this. He says he wants the lawsuit to go all the way."
According to the suit, a copy of which TMZ has obtained, Fernando Flores claims Britney made "repeated unwanted sexual advances" toward him by exposing herself in front of him in her home.

Flores alleges, on one occasion — in a scene right out of "Legally Blonde" — "She was wearing a white lace, see-through dress. She walked over close by [Flores], intentionally dropped her cigarette lighter on the floor, bent over to retrieve it and thereby exposed her uncovered genitals to [Flores]." The lawsuit goes on, "The incident caused [Flores] shock and disgust."

The suit then goes on to describe another alleged instance where Britney summoned Flores to her room, where she was standing naked. The suit claims, "After an awkward silence during which [Britney] just stood naked before [Flores], [Flores] asked Spears if she needed anything. After some hesitation, Spears asked [Flores] to get her two bottles of 7 Up."

One time after allegedly exposing herself, the suit claims Britney said, "You know you liked it."

And the suit says, "In addition to exposing herself to [Flores], Spears engaged in numerous sex acts in front of [Flores]." There's also an allegation Britney was "loudly having sexual relations" in a hotel suite where her kids were present. The suit does not say if the kids saw anything.

And there is a more serious allegation — The suit claims on one occasion Britney allegedly demanded Flores' belt, then walked in the house and allegedly twice "savagely hit the small child [Preston]" with the belt.

And the suit claims on another occasion Britney fed both kids crabmeat even though she knew they had serious fish allergies. The suit claims both kids started vomiting and Spears allegedly prevented anyone from seeking medical help, allegedly telling them, "Mind your own f**king business!"

Although it is not mentioned in the lawsuit, sources have told TMZ … Flores contacted the L.A. County Department of Children and Family Services. And we're told DCFS investigated and determined the claim had no merit.
[From TMZ]
It's very easy to believe that Britney would proposition her bodyguard and walk around naked in front of the guy. This is her M.O. and we've seen her do it for the paparazzi for years. I hope that the boys were sleeping when she had sex in the hotel suite where they were all staying, that she never fed them crabmeat knowing they were allergic, and that she never hit Preston with a belt. I could see her hitting her boys with a belt though, as depressing as it is to think about someone treating a little kid like that. Britney is mentally ill and we've seen that she has poor parenting skills. Still, we have to consider this guy's motivations and the fact that these are just allegations at this point. He's not the first bodyguard to claim that Britney is an awful mother, though.
*It's worth noting that there are two stories of potential child abuse, the belt and the food allergy incident, that TMZ and Radar report are in the lawsuit, but that don't appear in the PDF of the lawsuit on TMZ. Radar has those allegations in the PDF of the lawsuit they posted. It looks like the two sites have different versions of the same lawsuit, with some pages missing from TMZ's.
Photos are from 8/18/10. Credit: Fame Pictures