Lindsay Lohan made an appearance in the opening video segment of the VMAs last night, which were unspectacularly hosted by Chelsea Handler. Handler's introductory video involved her being smacked on the butt and pursued down hallways prior to supposedly going on stage. Every single one of the guys who was smacking and/or chasing Chelsea was black, which seemed like more than a coincidence given her racially-tinged excuse for humor. (It's possible those were just the guys who were in the building when she shot it, but I doubt it and think it was part of her concept.) She unnecessarily inserted race into a couple of jokes in her opening monologue, too, and those were pretty weak as is typical for her. I'll include some of her quotes in a moment. First let's talk about tired and strung-out looking Lindsay's appearance at the end of the segment. She tried to give Chelsea some kind of tough love pep talk and ending up smacking her on the butt, too. One of Lindsay's lines was mildly amusing, but other than that it was lame. Lindsay smacked Chelsea after her faux alcohol-detection ankle bracelet went off and said: "Pull it together, you're a mess. Do you think anyone wants to work with a drunk? Take it from me, they don't." Given how worn out Lindsay looked, it was hardly a triumphant moment for her to poke fun at herself.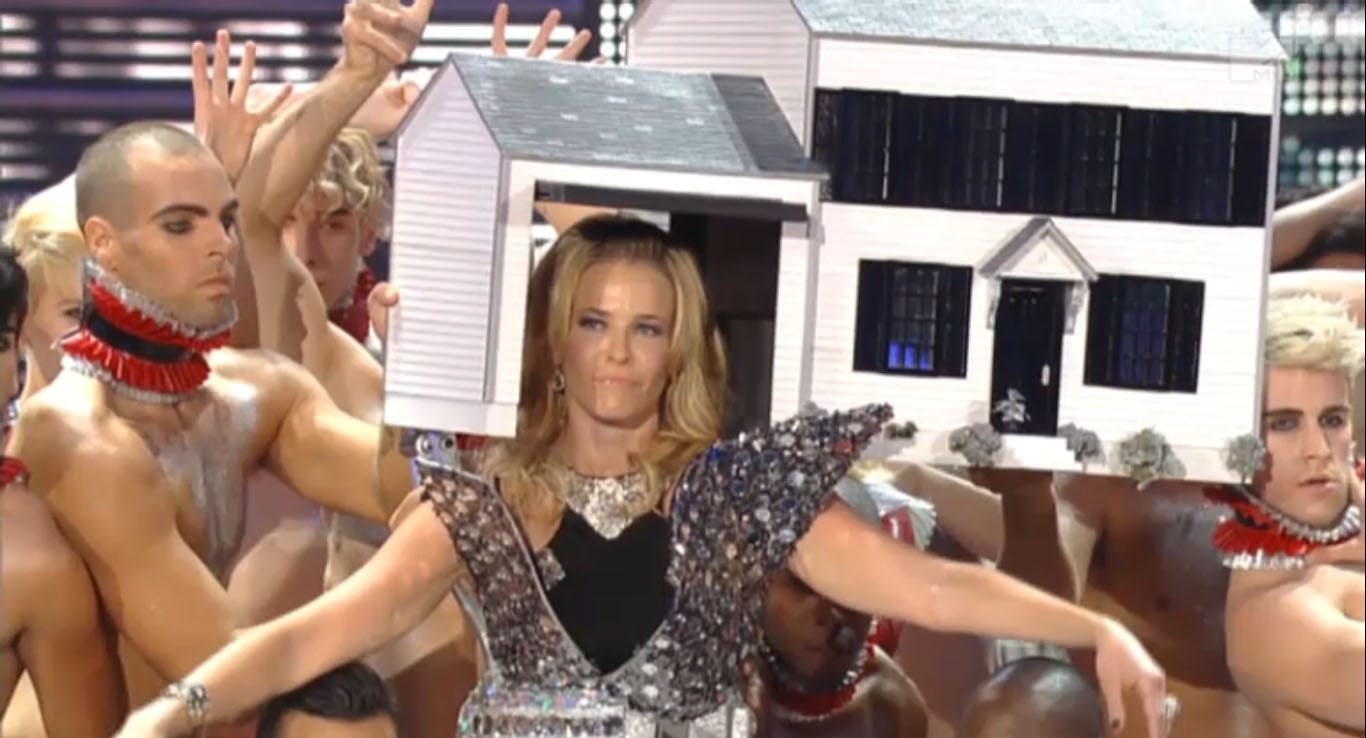 For her opening act Chelsea was lowered onto the stage with a giant house on her head while Lady Gaga played in the background. She opened it and released a dove from inside it, but the poor dove wouldn't fly and sat on one of the dancers for a moment.
During the monologue Chelsea made a bunch of dumb jokes that were supposed to be topical but just sounded weak
Her lame jokes on race She joked that she didn't drink all week in preparation, but was "high as a kite." That's "The last time I do a prayer circle with Snoop Dogg. Angry black man what a surprise," she added.
She encouraged people to get wild and said "I'm also not opposed to use weapons this evening. If anyone needs one I snuck in a couple of sawed off shutguns in my purse. Security didn't check in it because I'm white." Har de har har.
To Lady Gaga and Beyonce: "Enough with the adult onesies. You guys look leotarded"
On Jersey Shore and how she's from Jersey: "If you leave Jersey you may host the VMAs, if you stay in Jersey you may host the herpes.
"Everybody knows they have it."
On the Mel Gibson tapes: "A few of the biggest hits weren't even nominated. My personal favorite was a series of duets released by that Russian woman featuring Mel Gibson."
This is why I don't watch Chelsea's show. She manages to make even interesting pop culture into something dumb, petty and racist. It seems pretty apt for Lohan to make her first post-jail appearance with Chelsea. I hope that this little segment dramatically decreases the amount that outlets are willing to pay Lindsay for her first interview.
Here's Chelsea's opening monologue. (This video only works if you're in the US, sorry!)