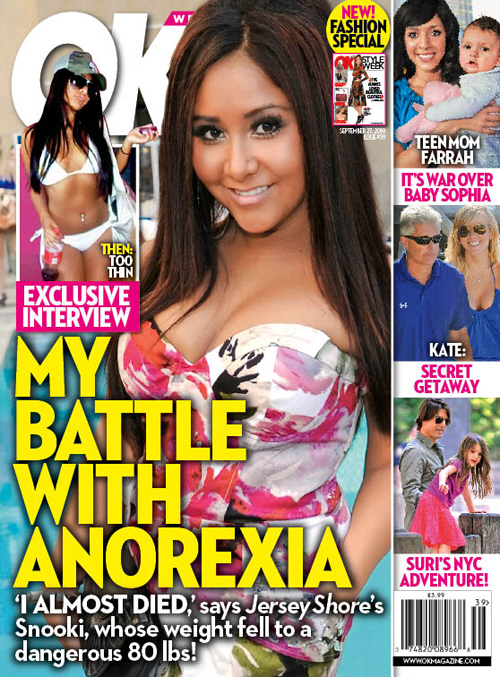 Snooki and the Jersey Shore people got TWO tabloid covers this week – OK! Magazine has the Strange Orange Potato (SOP) and her struggle with anorexia and bulimia, while Us Weekly has "Jersey Shore's Secret Fights." Meh. But I did find the SOP's struggles slightly interesting. I didn't know that she had dealt with eating disorders before – and I guess it was serious, or else she wouldn't be saying "I almost died!" Unless that's just hyperbole and she just used took a few laxatives when she felt bloated, and now it's like, "ZOMG, I COULD HAVE DIED, Y'ALL." Fascinating.
Jersey Shore's Nicole "Snooki" Polizzi is an icon for the reality-show era — famous for being her bronzed, brawling, poufed, profane, fist-pumping 4-foot-9-inch self. She's also lucky to be alive. Just a few years ago, the 22-year-old was a painfully insecure Poughkeepsie, N.Y., teenager suffering from two potentially deadly eating disorders: anorexia and bulimia.

OK! caught up with Snooki at L.A.'s The London hotel, where she was in town for the MTV Video Music Awards. There, she shared her struggle and how she finally learned to have a positive self-image.
[From OK! Magazine]
Wait, so the Snooki we see now is her having a positive self-image? Oh, honey. NO. No one who is that f-cking orange has a positive self-image. She once buried her feelings in self-abuse by sticking her finger down her throat, and now she buries her feelings in layers of ORANGE. But, hey, the poof is gone, right? Baby steps.
OK Magazine cover courtesy of OK! Online.