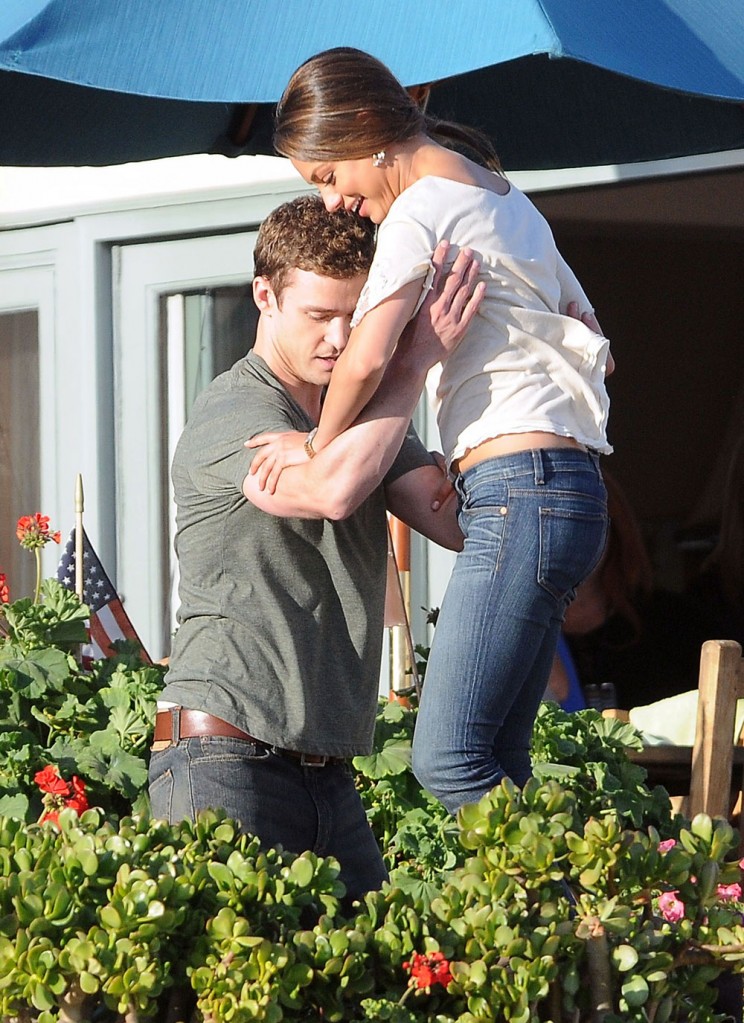 This week's US Weekly has a story suggesting that Justin Timberlake is cheating on his longterm girlfriend, Jessica Biel (again) with his adorable co-star, Mila Kunis. Only US just suggests that something could be happening between them and then ends with a rep denial and a supposed insider's statement that Mila would never get with a guy who had a girlfriend. I can definitely see Timberlake drooling all over Mila as this article suggests, and we know he has a long history of stepping out on Jessica and getting reined back in again. Whether Mila is game or not is up to question.
Justin Timberlake: Betraying Jessica

The singer finds Friends with Benefits costar Mila Kunis nearly irresistible.

Justin Timberlake is really getting into his new role as Mila Kunis' love interest in Friends with Benefits, currently shooting in L.A. "He is absolutely obsessed with Mila," says a source of the star, 29, who met his leading lady, 27, on set. Seconds another pal: "He's smitten!" And no wonder. "Mila is beautiful, funny and no bullsh*t," says the pal of Kunis, who has been involved with Macaulay Culkin, 30, on and (currently) off for eight years. So what about Timberlake's girlfriend of three-plus years, Jessica Biel, 28? "Justin has strayed before and he'll do it again, but he has no intention of ending things with Jess," a Timberlake source says of the star, who's well-known wandering eye has landed on everyone from Rihanna to Ciara. His rep insists, "There is absolutely no truth" to the Kunis crush. (Timberlake and Biel were seen running errands in L.A. September 11.) As for Kunis, "Mila would never go for a guy with a girlfriend," says a pal of the actress. "And he's not her type!"
[From US Weekly, print edition, September 27, 2010]
I love how the "pal" adds that Timberlake isn't Mila's type. So is Timberlake fawning all over her and getting turned down? Maybe, I could see it happening. He just seems like a dog who is too weak to admit that he doesn't want to be in a relationship. I don't know much about Mila but maybe she's smart enough to realize that it's not a good idea to mess with a guy she's working with who has a girlfriend who could bench press her.
These photos are from the set of Friends with Benefits and are from 8/31/10. I also included a picture of Richard Jenkins (Six Feet Under) in his underwear on the set of that movie just because it's the first time I'm seeing it. He's an awesome actor. Credit: Fame Pictures.