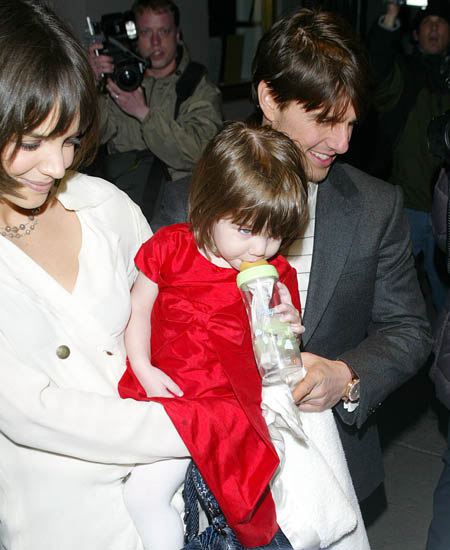 Suri is shown with a bottle on 1/14/08, thanks to WENN. Sippy cup photos are available at PopSugar
Ashlee Simpson got married, Heidi and Seal are getting remarried, Angelina Jolie showed off her pregnancy ta-ta's– so what! The real story of the weekend was a photograph of Scientolospawn Suri Cruise, clutching both her trademark bottle and- wait for it- a sippy cup!
Looks like Katie Holmes is taking Usmagazine.com's parenting advice!

Her two-year-old daughter Suri was spotted in Hollywood yesterday with both a sippy cup and a bottle!

After the tot was spotted sucking on a bottle in NYC last week, a pediatrician told Us that she was far too old for that habit.

"Most pediatricians recommend a bottle should be given up by age 1 — almost certainly by 18 months," Dr. Charlotte Cowan, author of the Dr. Hippo book series, told Us.

To help Suri move on, Cowan suggested the couple try "to "distract [her] with something that might be more appealing, like a sippy cup."

Also possibly distracting Tom Cruise's daughter? Dance lessons! Suri sported mini tap shoes after taking a class with mom on Thursday.

(Suri seems to be into performing: Holmes revealed she loves American Idol and her dad said Hairspray was her favorite video!)
We've been on "Suri Bottle Watch" for months now. We were nearing code red- it looked like we may have another Leah Remini situation brewing with the superstar toddler. Tom and Katie are rumored to be trying for another baby- which may explain the sudden interest in getting Suri weaned. As a mom of two daughters and a dtepmom to two sons, I have the following advice for Katie: the best way to get Suri off the bottle is to remove it completely. Out of sight, out of mind is the way to go- especially with little kids. As long as the bottle is somewhere accessible in the house, she's going to keep asking for it. And when she drinks from the cup, praise, praise, praise!