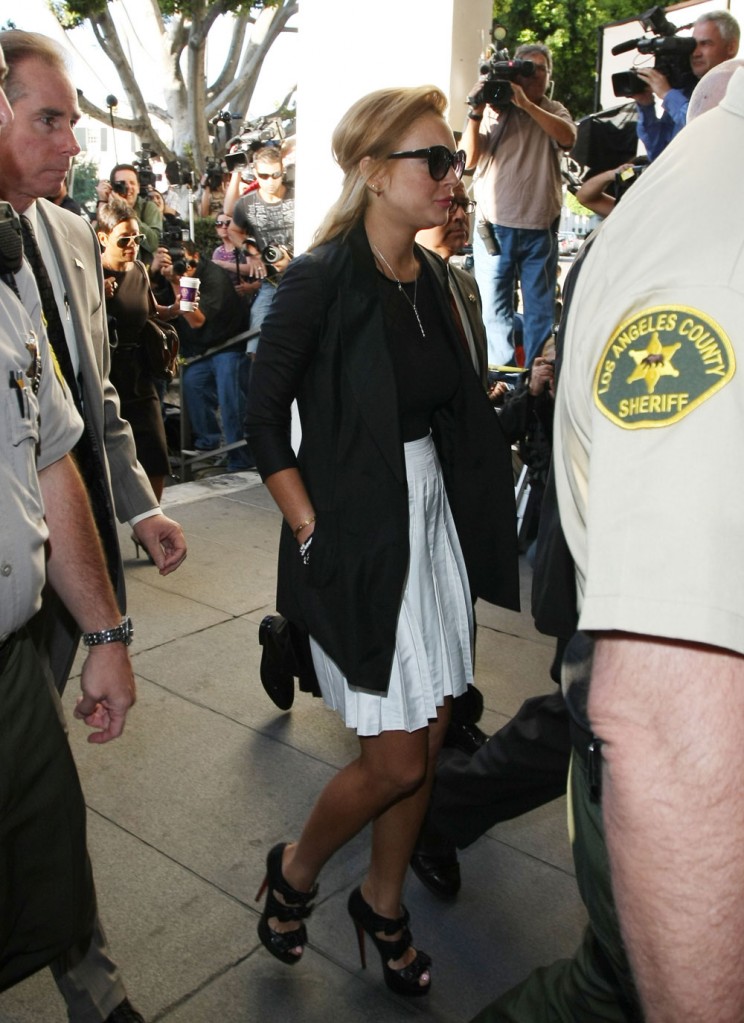 It turns out that TMZ was right when they said that Lindsay couldn't be thrown in jail without bail for two failed drug tests, which were misdemeanors. Lindsay's lawyer filed an appeal on her behalf and her sentence to languish in jail without bail until her next hearing was overturned yesterday. Bail was set at $300,000, she met it, and now she's out to terrorize the streets once again. The tiny silver lining in this is that she's been ordered to wear a SCRAM alcohol detection bracelet and to stay out of nightclubs. I'm sure there will be plenty of "drinks spilled" on the device, just as there will be so many important business meetings that she can't miss held in dark loud bars at 1:00 am.
Here's TMZ's report:
Lindsay Lohan will be a free woman soon, because a judge has just reversed Judge Elden Fox's decision and has granted LiLo bail … TMZ has learned.

Judge Fox ruled earlier today … Lindsay could be held without bail. But apparently the Judge's ruling flies in the face of California law, which gives defendants the right to bail in misdemeanor cases.

Judge Patricia Schnegg, Assistant Supervising Judge for the L.A. County Criminal Courts, just threw Judge Fox's bail decision out the window. Judge Schnegg has set bail at $300,000.

Lindsay, who is in Lynwood Jail right now, should get out soon … probably in a few hours.

UPDATE 6:02PM PDT: Lindsay will have to get a SCRAM bracelet (this will be her third) within 24 hours — and under the terms of her bail, she is not allowed to be around known drug users … and must submit to search by law enforcement at any time. Also, nightclubs will be a major no-no … Linds has to stay out of places where alcohol is the "chief item of sale."

UPDATE 10:10PM PDT: TMZ has learned that Lindsay's favorite bondsman has posted her bail. She can now leave the Lynwood jail as soon as she can get a ride.
[From TMZ]
Radar Online reminds us that this is the third alcohol-detecting SCRAM device that Lohan has been outfitted with at the age of 24. I'm sure that Judge Fox knew full well that his ruling would be promptly overturned, but he wanted to give Lohan a wake up call that she's never, ever going to anything other than hit the snooze button on.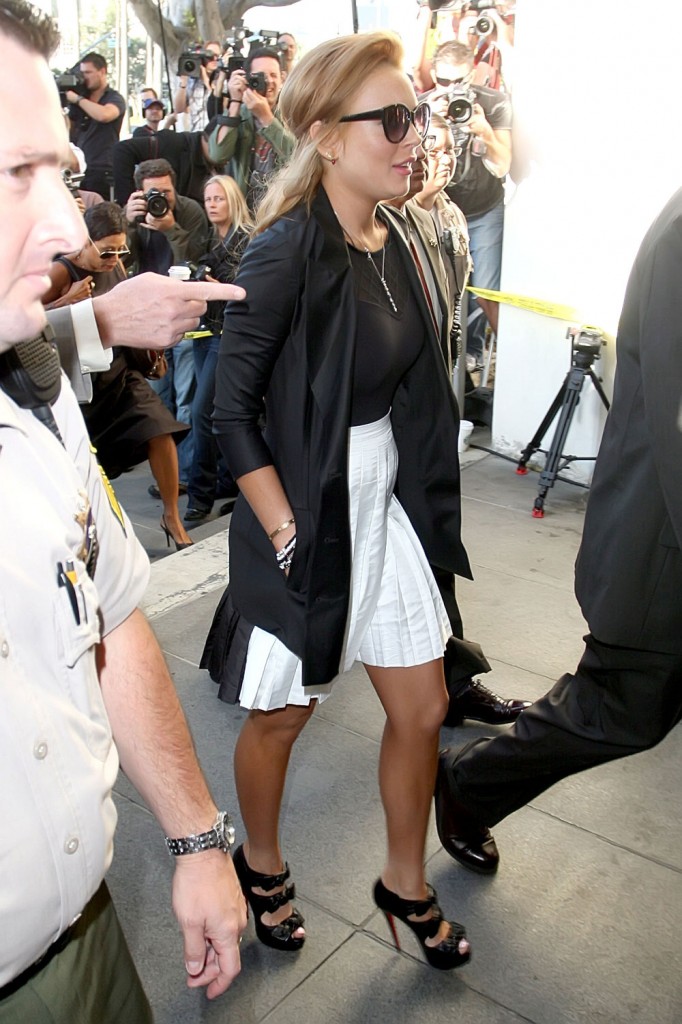 If Lindsay was surrounded by people who had her best interests in mind instead of leeches and sycophants someone might put her in an inpatient rehab. Lindsay's mom won't even admit that her daughter has already been in rehab four times and that it never took, though, so you know that's not going to happen. She's going to drink, drug and go out until her next hearing on October 22 and she'll be jailed again probably and she'll get out within a few days to continue doing whatever she wants, earning a living calling the paparazzi and selling her overpriced padded leggings. This woman could have been a movie star, she could have been a TV star, she could have been a pop star. (She wasn't bad compared to a lot of the crap on the radio.) Now she's just an entitled addict in denial. There are stories of sadness and regret for lost careers and families in every AA meeting around the world. Some of those people lost much more than Lindsay before they got there.