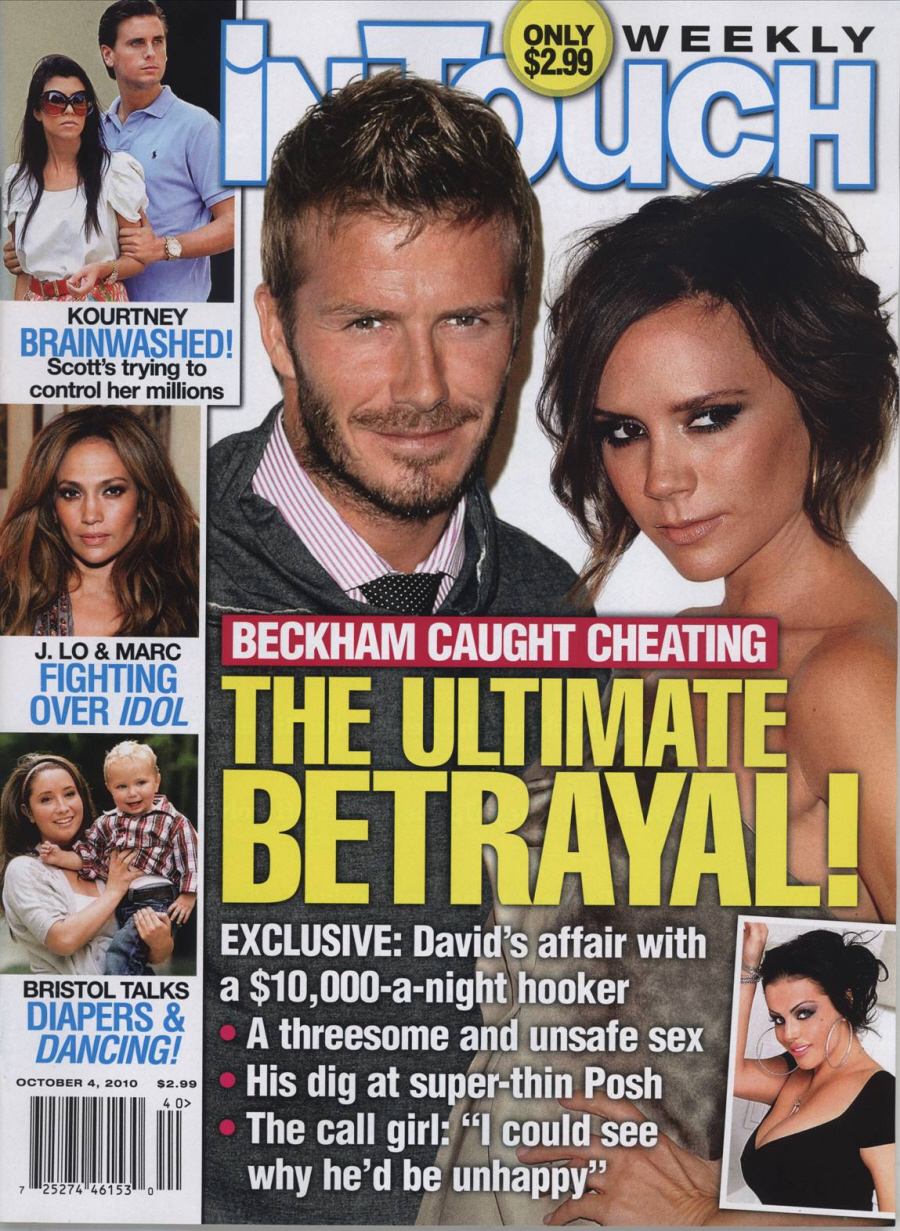 Unlikely nearly everyone else who mumbles about lawsuits when a tabloid claims they're having an affair, David Beckham has follow-through. I admire that. After In Touch Weekly reported this past week that David had hired a hooker six times back in 2007 to have some hot vanilla sex, David has now filed a lawsuit for libel, slander and "intentional infliction of emotional distress" against In Touch. Not only if Beckham suing ITW – he's also suing the hooker (former hooker?) Irma Nici.
Lawyers for David Beckham have filed a lawsuit against In Touch Weekly after running a cover this week claiming that he had wild sex with hookers.

In the suit – filed Friday in Los Angeles Superior Court – he accuses the tabloid of libel, slander and intentionally causing emotional distress.

The suit also names 26-year-old Irma Nici, who is quoted as saying she was a call girl who slept with Beckham five times in 2007. She also says he had sex with a second prostitute.

In Touch has yet to comment.

Earlier this week, Beckham's rep told UsMagazine.com the allegations "are completely untrue and totally ridiculous, as the magazine was clearly told before publication. Sadly we live in a world where a magazine can print lies and believe they can get away with it."

David, 35, and Victoria, 36, who have been wed for 11 years, have three sons, Brooklyn, 11, Romeo, 8, and Cruz, 5.
[From Us Weekly]
I have mixed feelings about this… on one side, I really believed In Touch's story, and I still kind of believe it. I definitely think David has cheated on Victoria many times in the past, and that Victoria pretty much turns a blind eye because they're pretty much a corporation at this point, and because they probably still love each other a lot, and because they've got three kids and they both seem like great parents. So, in that way, I think ITW is just digging around a marriage between two people who have their own set of rules as far as fidelity goes, and that's perhaps not fair. So… basically, I believe In Touch had every right to publish their story – they had a solid, named source and two named confirmation sources after all – but I also admire David Beckham for having the balls to take on a tabloid.