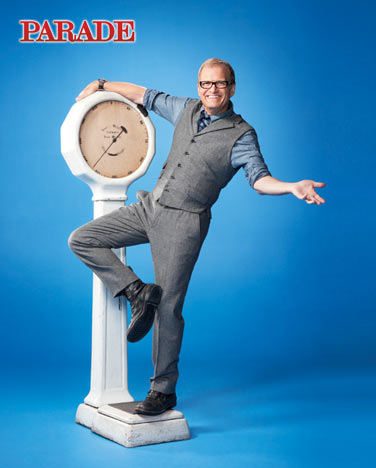 Drew Carey, 52, is on the cover of this week's Parade magazine looking thinner than we've ever seen him and standing on an old fashioned scale. Inside, he talks about his 80 pound weight loss journey and the personal trials that lead him there. Drew was motivated to get healthy last November when he had trouble keeping up with his fiance's five year-old son, who calls him "dad". He reached out to a personal trainer and nutritionist, and they came up with an eating and workout plan for him that helped him reclaim his life. Drew says that he used to think he would die at 60, but that he now feels "like I have my whole life back. I could live to be 100 now." Sadly Drew was reminded just how close he could have come to death when he lost one of his older brothers, Neal, 64, to a heart attack this July. Carey made a pact with his other brother Roger, 58, that they would each keep the weight off.
Some of Carey's interview with Parade is below, and you can read more at the source. It's a worthwhile read in that Carey describes his workout and diet plan along with what he went through to get there. He admits that it was hard, but says it was harder to eat the way he used to and to feel terrible all the time.
On how much better he feels
"The hardest diet I was ever on was the one when I was fat," Carey declares. "You can only wear fat clothes, you don't feel good, your sex life gets damaged, you don't have energy for anything. It's horrible."

Through better nutrition, daily exercise, and good old-fashioned willpower, the famously funny fat guy from Cleveland with the 44-inch waist and XXXL shirts has given way to a good-looking, fit, and happy 185-pound guy in a short-sleeve shirt (size M) and 34-inch pants. The incredible shrinking Carey rhapsodizes about the divine experience that is healthy living, especially his enhanced clarity of thought and renewed vigor. "This is how you're supposed to feel every day," he says. "This is what I should have felt like my whole life!"

But the comedian is the first one to point out that he's lucky to have made it to this moment. "I always thought I was going to die before I was 60," he says matter-of-factly. "My father died of a heart attack in his 40s. I'm not an idiot. The writing was on the wall."

On his motivation to lose weight
At 262 pounds—his heaviest ever—Carey was poised to bust the seams on his 44-inch pants, a symbolic barrier for him since it was the largest size carried by the Gap. He had also developed a litany of weight-related health conditions, including type-2 diabetes. But it was Connor, fiancée Nicole Jaracz's 5-year-old son, who gave him the incentive to get serious. "I couldn't keep up with him," Carey admits. The comedian would be left breathless and sweating after just a few minutes of playing. "I'd be like, 'Connor, I can't,' and he'd say, 'C'mon, Dad!' That was a terrible feeling. I thought, I'm never going to see him graduate high school."

Carey sent a plaintive e-mail to Marc Vahanian, the trainer he'd worked with after his 2001 surgery. It said: "Are you still in the lifesaving business? Because I need to have my life saved." Vahanian started Carey on a fitness routine and in February referred him to Dr. Chris Renna, who has 30 years of experience in preventive medicine. Renna devised a customized nutritional and behavioral program. "Drew was at a crossroads, and the distance between where he was and serious medical problems was really very short," the physician says. "His behavior had brought him to the precipice."

On how crappy he felt after a relapse
Carey's weight kept dropping at the rate of about three pounds a week. After 10 weeks, his doctor told him that his diabetes symptoms had reversed and that he no longer needed to take medication. In June, Carey went on vacation to Africa and carried Connor on his shoulders without breaking a sweat. Finally, on Aug. 15, he tweeted from the finish line of a race: "Just ran my first 10K in almost 25 years. Sub-60. Then I had my first ice cream since January. "

But then Carey followed the cone with an entire pepperoni pizza and a cupcake. The next day, he ate another pizza, leaving him a few pounds heavier and feeling sick. He learned a valuable lesson from his relapse which he posted above his bathroom mirror: "Eating crappy food is not a reward—it's a punishment."

According to Carey, being healthy doesn't mean banishing the occasional cupcake or slice of pizza from one's life. "It's no problem if you're eating well all the time. But an entire pizza? I might as well think that hitting myself in the face is a reward," he says, adding that for his next celebration he'll treat himself to a massage or a quiet day with a book.
[From Parade]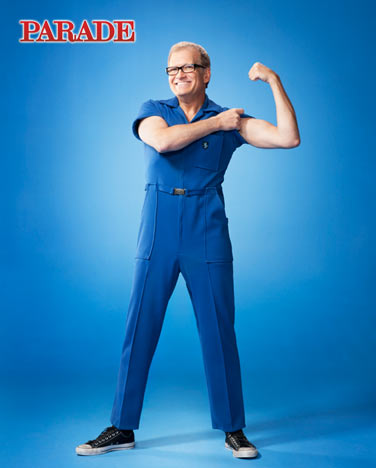 Parade also has a comparison of what Drew used to eat every day compared to his current diet. Not only did he used to eat a lot of carbs, red meat and heavy sauces and cheese, he also used to drink "gallons" of regular Pepsi every day. There are 1600 calories in one gallon of Pepsi, which is enough calories for an entire day if you're trying to lose weight. Cutting out soft drinks alone can help someone lose weight.
I love Drew and am so happy for him. He is such a positive example of someone losing weight for the right reasons and doing it in a way that's both safe and life changing. Now that he's slimmed down, I wonder how long it will be before he marries his fiance!
Drew in August, 2010

Drew in December, 2008 (credit: WENN.com)