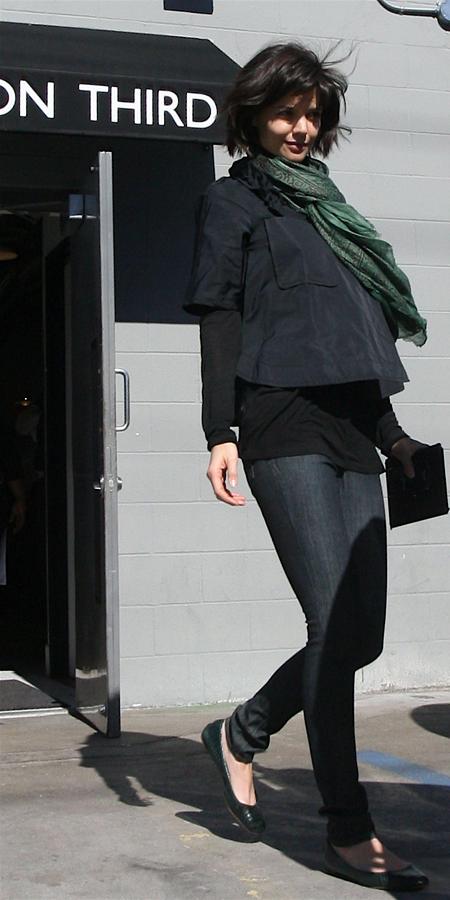 Gossip blogs aren't the only ones who think Katie Holmes has changed for the worse since marrying Tom Cruise. Apparently her friends think so too. Where Katie publicly comes off as soft-spoken-to-the-point-of-meek since hooking up with the pint-size actor, her friends say she's become demanding, rude, and borderline abusive to her staff.
Has fame and fortune gone to the head of Mrs. Tom Cruise? We hear that Katie Holmes has developed quite the attitude lately, treating her hired help like crap! That beacon of virtue and truth The National Enquirer reports that Katie has been bullying her household help, with sources saying living with Tom has changed her personality for the worse.

"She treats the help like slaves," says the insider. "At times, she just leaves everything she doesn't wear on the floor where it drops for the maids to hang up.

"That's so unlike the old Katie, who would never want to be any trouble or be at all aloof." And we thought she was just a Stepford robot these days! The insider also told of an incident where Katie took a sip of Tom's "daily smoothie" after their housekeeper prepared it for him.

"One day, the housekeep was making Tom his daily smoothie and Katie came along and sipped a couple of inches from it. Then she told the housekeeper that she'd blame her for drinking it! She was just goofing around to see the woman squirm. The poor woman was terrified because she didn't know what she was going to say to Tom."
[From Nine MSN]
If there's any truth to it, then that's quite the unbecoming story. In a way it makes sense though. If Katie felt frustrated and angry with Tom, it would figure that she would take it out on her underlings. I doubt Tom hears much of Katie's dissent. But a maid or housekeeper would have to listen to her.
When you hear Katie speak now, there is this overly-controlled robo-wife quality to her speech. It's really creepy. You can't help but think the poor woman must have an axe-murderer's rage building up inside her. I feel it just looking at Tom Cruise. Imagine if you had to kiss him.
Here's Katie leaving Joan's on Third in Los Angeles after having lunch on 01/30/08. Images thanks to WENN.