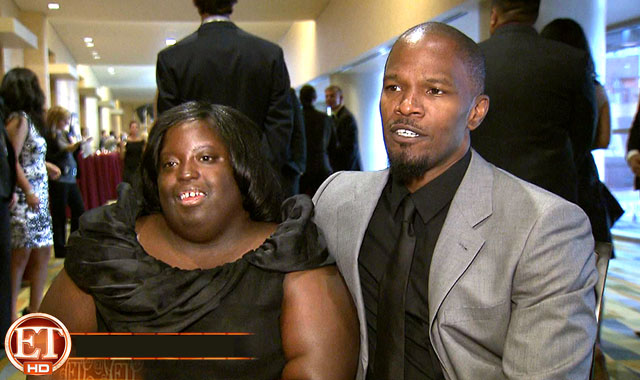 Jamie Foxx really surprised me with his latest appearance at a charity event for Quincy Jones' Global Down Syndrome Foundation. He came with his sister, DeOndra Dixon, who has Downs, and explained that she lives with him, along with his other sister and his mom and dad. It's obvious that Jamie has a lot of love for Diondra, and he was even joking around about her. She laughed at him and rolled her eyes when he was gushing about her. Here's ET Online's coverage and you can watch their video through their website.
We've seen Jamie Foxx with his sister DeOndra Dixon on the red carpet but now he's putting her in the spotlight and opening up about caring for a sibling with down syndrome.

"This little lady right here lives with me along with my other sister, along with my father and my mother. So, we're one big happy family," Foxx said while seated next to DeOndra.

On Saturday night, DeOndra and her peers participated in the Be Beautiful, Be Yourself Jet Set Fashion Show where music great Quincy Jones and "Survivor" host Jeff Probst were both in attendance. The event went to benefit Global Down Syndrome Foundation. Foxx said of the evening, "This is just so amazing that she gets to do her thing where the spotlight is on her. The focus is on her. It means a lot."

The actor couldn't help but dote on his sister, telling ET, "I don't call it a condition. I just call it living. … When she loves, she loves. When she's mad, she's mad. When she cries, she cries. When she's happy, she's happy, but she always tells the truth."

He said the message of this event was to be yourself and to recognize that there's "beautiful everywhere."
[From ET Online]
That's so nice! I used to see Jamie Foxx as this kind of smarmy guy who used a music career as a side gig to get laid, but even if he does do that, and he probably does, he's a nice guy! He's taking care of his family and he didn't just buy them a house or hire people for them, he's living with them. I love that.
The event that Jamie and his sister attended raised $1.45 million which will go to the Linda Crnic Institute for Down Syndrome at the University of Colorado School of Medicine.
Now here are some pictures of Jamie shirtless and also outside a club. Because you know that's how you still see him. (Me too.) I would hit that and only feel slightly guilty.
Photos are from August. Credit: BRJ and WIC/Fame Pictures