Star: Michael Douglas & Catherine Zeta-Jones "saying goodbye"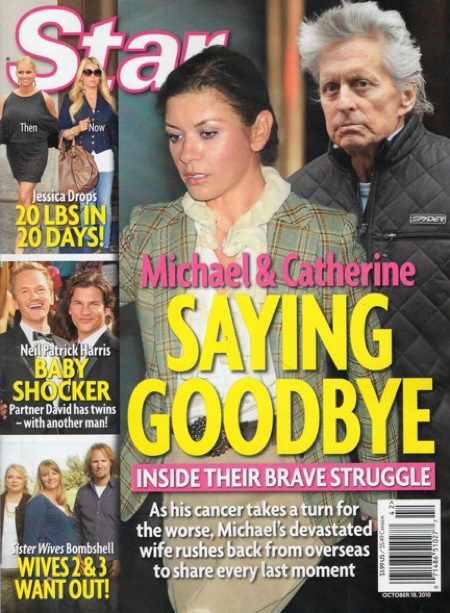 I think this Star Magazine cover is rather distasteful. But should Star get credit for saying what a lot of us are thinking? My mother and I were recently discussing Michael Douglas and whether or not his cancer is worse than people are letting on. Her thought is that Michael is dying, and that Catherine is devastated. Which is basically the gist of the Star piece – that Catherine and Michael are preparing for the worst.
Michael Douglas and Catherine Zeta-Jones' May-December romance beat the odds and blossomed into a beautiful marriage that has lasted nearly 10 years. But now they face the hardest test of all as he bravely battles Stage IV throat cancer.

In the October 18 issue of Star, on sale now, we report that the couple secretly fears that these could be their final days together. While Catherine was recently in her home country of Wales for a Ryder Cup golf tournament event, she received an upsetting phone call from her ailing husband's medical team.

"The doctor spoke to her about Michael's condition," a family friend tells Star. Catherine was forced to cut her trip short and rushed back to his side in New York, worrying that she might be returning to say goodbye.

"They're trying to be brave, but really they're preparing for the worst," a source tells Star. Pick up this week's issue of Star today for our full story about Michael and Catherine's brave struggle.
[From Star Magazine]
If the worst for Michael is on the horizon, I hope that he's lucky enough to be surrounded by friends and family in his last days. That being said, Michael is one tough old bastard, and it wouldn't surprise me if he was able to beat the odds. We'll see.
Update by Celebitchy: Gossip Cop got a quote from Douglas' rep, who calls this story "complete rubbish" and discounts several of their claims. Here's their report:
Catherine Zeta-Jones "did not rush back" home after the Ryder Cup event.

In fact, she was on the exact same flight she had always been booked on to return home.

The rep also informs Gossip Cop, "Tomorrow is [Douglas'] last day of treatment," and as opposed to Star's morbid account of how these are possibly his last days, the Oscar winner is going to recuperate for the next six weeks, and then "hopes to announce he's clean."
[From Gossip Cop]
Hang in there MD!
Star cover courtesy of CoverAwards.
Written by Kaiser

Posted in Catherine Zeta-Jones, Michael Douglas

- Harry Styles & Kimberly Stewart going strong [Lainey]
- Demi Moore's new man is gross [D-Listed]
- Fug or fab: Emma Stone [Go Fug Yourself]
- Arrest warrant issued for Jenelle Evans [Reality Tea]
- Only God Forgives review [Pajiba]
- Hugh Jackman, scooter master [Buzzfeed]
- Who does Drew Barrymore call her sister? [Evil Beet]
- Cannes couples past and present [Popsugar]
- Arrested Development supercut [CDAN]
- Lea Michele's see through skirt [Celebslam]
- Cheating wife's lover escapes out of window [Movin925]
- Joe Francis is crazy [Starcasm]
83 Responses to "Star: Michael Douglas & Catherine Zeta-Jones "saying goodbye""