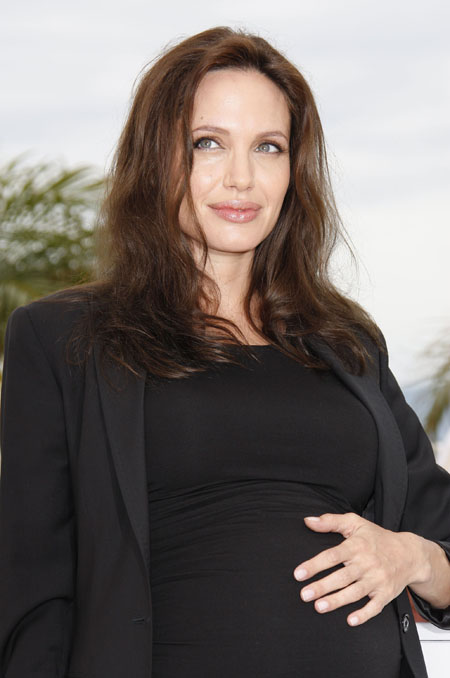 OK! Magazine is reporting a rumor that Angelina Jolie had her twins over the weekend in the Aix-en-Provence region of France, which would be near Brad and Angelina's newly leased $60 or $70 million estate. (Depending on which reports you believe.)
OK! says we should take this with a grain of salt, and that it's just an unsubstantiated rumor for now. The details are pretty sketchy:
There may be nothing more than wishful thinking to reports coming out of France this morning that Angelina Jolie, who was due to give birth to twins some time in the next three to four weeks, has indeed already delivered her fifth and sixth children.

According to rumors, the Oscar-winner gave birth on Sunday in a Catholic clinic in the Aix-En-Provence region of France. No further details are forthcoming at this moment.
[From OK! Magazine]
OK! reminds us of the rumor that Brad and Angelina were married in the French Quarter of New Orleans in March. It turned out that the wedding was for a couple from New Orleans' elite and that all it took was a few blocked roads and an expensive wedding for the story to get started. Maybe there's a wealthy French woman or even another celebrity who arranged to have secrecy surrounding her birth and it's not Angelina at all.
Angelina has said that she will disappear for a couple months after her twins are born. Dustin Hoffman leaked the news that she was due August 19, but that could have been a cleverly arranged setup by Brad and Angelina to ensure that they have time alone after the birth. It's hard to tell how far along she is, especially if she's having twins.
Update: D-Listed is reporting that Angelina named the twins Isla Marcheline Jolie-Pitt and Amelie Jane Jolie-Pitt.
Update 2: The Insider claims to have a source that confirms that Angelina had her twins and that those are indeed the names. Congratulations to the happy family if all this is true.
Update 3: People has an exclusive that Angelina didn't have her babies, and since they're at the top in the gossip hierarchy I think I'll believe their version.
Angelina Jolie is shown on 5/20/08 at a photocall for The Changeling, thanks to WENN.