Lindsay & Samantha's friends talk about their relationship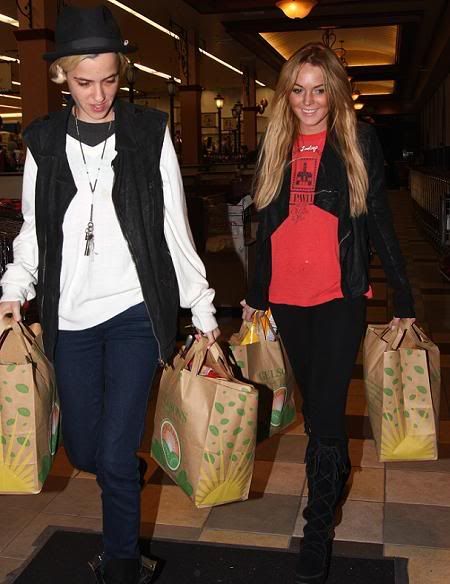 In many ways it seems like Lindsay Lohan's relationship with deejay Samantha Ronson is probably the healthiest one she's ever been in. Though the two have yet to come out publicly as a couple – and Lohan has never acknowledged her (likely) bisexuality or lesbianism – it seems like their relationship is remarkably strong and fairly stable, at least as a Lohan affair goes. According to several of their friends, they key to their happiness is trust – the pair have been friends for years.
Why does Lindsay Lohan spend so much time with good pal Samantha Ronson?

"Lindsay just feels safe with her," socialite – and Lohan friend – Cory Kennedy told PEOPLE at Billabong's 2nd Annual Design for Humanity Event Wednesday night in Hollywood. "I just feel like they have a very loyal and trustworthy relationship, which is really hard to come across in the world that Lindsay's in. It's a trust thing."
[From People]
It seems like Lindsay and Samantha's friends are trying to be sort of discreet by not actually calling them a couple or saying they have a romantic relationship, but still want to make it known that they're supportive of the pair.
"DJ Steve Aoki, a close friend of both Lohan and Ronson, said their bond is easy to understand.

[Samantha] truly is a friend to her," he explained. "She's a very positive influence …. [Lindsay] sees that and sees a genuine, good friendship."

"I think the most important thing in a relationship is, really, trust," agreed Kennedy. "I feel like that's what their relationship thrives on. I love the fact that they're both really happy."
[From People]
Though it is a little unusual to go from dating just men to women, it definitely happens, especially around Lindsay's age. 21 is a pretty common time to figure out your sexuality. I do find it interesting that so many articles are calling Lohan gay, when it's just as possible that she's bisexual. Or perhaps she doesn't feel the need to define her sexuality, and just goes with what works for her. Either way, it seems like she's pretty happy and relatively drama-free, for a Lohan. Whatever influence Samantha has had on her seems to only be good.
Here's Lindsay and Samantha doing some late night shopping at Mayfair Market on May 3rd. Images thanks to WENN.
Written by JayBird

Posted in Lindsay Lohan, Lindsay Lohan, Photos, Relationships, Samantha Ronson

- Zach Galifianakis is awesome [Buzzfeed]
- Prince at the Billboard Music Awards [D-Listed]
- Bieber's Billboard look [Go Fug Yourself]
- Married to Medicine recap [Reality Tea]
- Celebrity first marriages [Pajiba]
- The last Mad Men baffled a lot of people [Lainey]
- Karolina Kurkova's crazy hot dress [Moe Jackson]
- Jennifer Garner on set [Popsugar]
- Kitten vs. Lizard [CDAN]
- Doetzen Kroes' great butt [Celebslam]
- Shameless star Jeremy Allen White [OMG Blog]
- RIP Ray Manzarek [Bossip]
24 Responses to "Lindsay & Samantha's friends talk about their relationship"