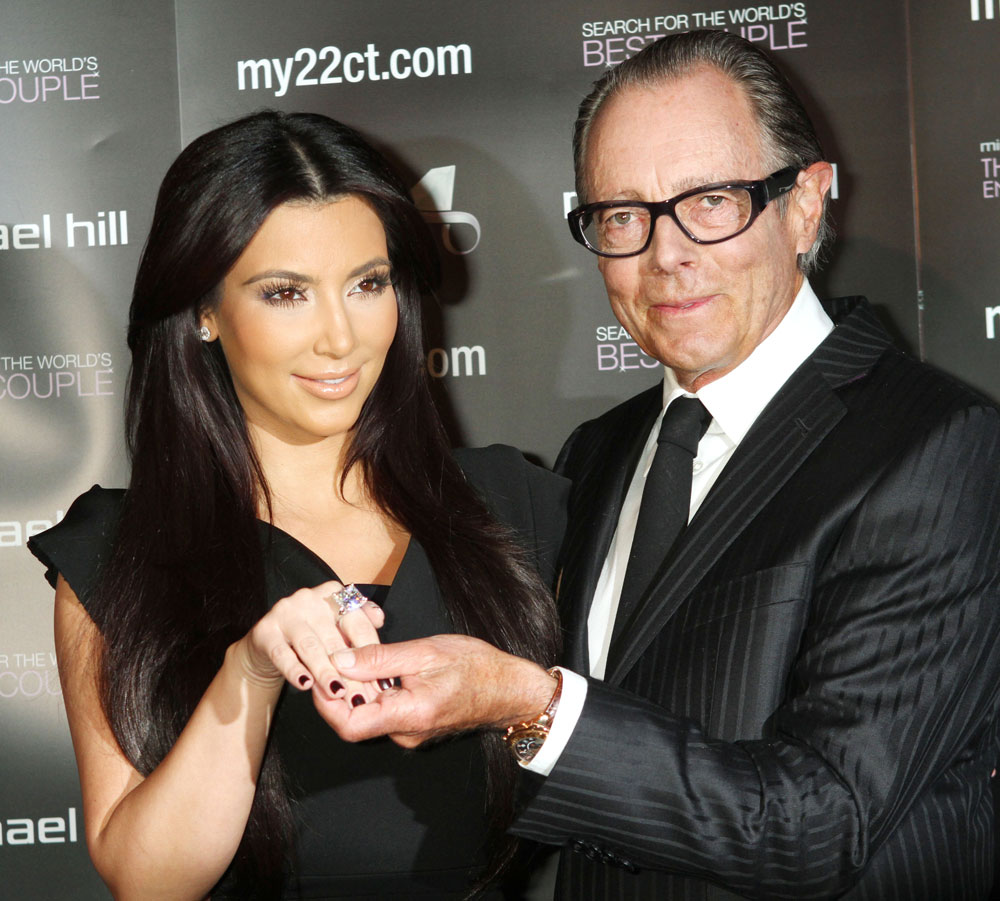 Kim Kardashian can't make an outing to a cell phone store without pulling in a teacher's yearly salary. Star Magazine has estimates from industry insiders on what Kim makes to show up at events and it's enough to make Montana Fishburne's career choices make sense. Kim gets around $40k and upwards to show up somewhere and look cute, and she has a six appearance deal at Tao in Vegas for which she's being paid 1/2 a million. Star has some estimates and quotes below, and I think they're seriously underestimating what she gets for Quicktrim. She's plugged that crap in so many TV and magazine interviews.

Bowling in heels: $40,000 (est)
"Who knew Kim was such an avid bowler? Maybe she's not – the star chose five-inched spiked heels instead of the usual bowling shoes when she presided over the grand opening of High Rollers Luxury Lanes at Foxwoods Resort Casino in Mashantucket, Connecticut."

Hosting a car rally: $35,000
"So you've never heard of the Bullrun Live Rally? Well, that's exactly why Kim was dressed in a skintight racing suit to wave the starting flag for the eight-day cross-country luxury-car rally – now you won't forget it!"

$100,000 for being a spokesperson for Quicktrim
"Kim is a full-fledged spokesperson for the diet supplement QuickTrim, so appearances like this one, at a Walgreens in Miami Beach, would be just one of her many responsibilities."

$83,000 a visit, Tao
"It might be easier to spot Kim at Tao in Las Vegas and NYC than a waitress! That's because the star has a $500,000 deal to host six events at the clubs. This includes her own 30th birthday, which she celebrated in Vegas and the very next night at Tao in NYC."
$40,000 to shop at Best Buy (photos here)
"It may look like an innocent drop-in at Best Buy in LA to check out cell phones, but for an in-demand star like Kim, a shopping spree is just another promotional gig. Aligning with Kim means guaranteed press coverage, says Kate Laufer, director of PR at Sidney Frank Importing, home of brands like Jagermeister."
- Quotes from Star Magazine, print edition, November 1, 2010
Kim had her third well-compensated 30th birthday party this weekend, at club Glo in New York City. Kim initially denied that she was having another party, but it ended up being one anyway. The club planned to present Kim with a record-setting birthday cake set with diamonds and worth over a million dollars. It was supposed to be a surprise, but when Kim got word of it she said she was opposed to such excess, and the plans for the million dollar cake were scrapped. Radar has details of Kim's night, and she spent it holed up with her sister Kourtney and friends in the VIP section. They quote a source who said "Security was impeccable. No one could get close to Kim<. All Kim did was sit at her table and text on her phone. She and her friends were taking pictures if each other the whole night, laughing and giggling." So she made tens of thousands of dollars to go to a club with her friends, get free drinks (although they supposedly only drank bottled water) and text on her phone. Kim's rumored hookup Kanye West showed up too, so it looks like there were plenty of diamonds at her birthday party after all.
Header image and two photos below are of Kim on 10/22/10 at a press conference for "The Ultimate Engagement Ring: Search for the World's Best Couple." She probably got $40k for that too. Credit: Mr Blue/WENN.com