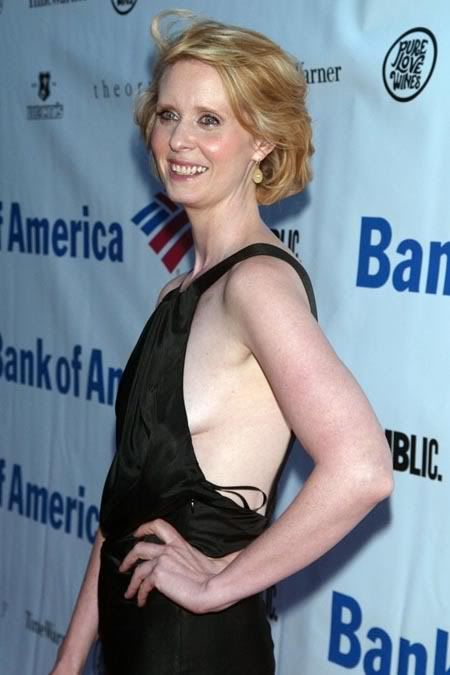 The NY Post is reporting today that Sex and The City co-stars Kristin Davis and Cynthia Nixon both underwent elective "minor surgeries" at the same hospital. These two are close friends, with Nixon saying on Oprah that Davis was the first person she told about her same sex relationship with Christine Marinoni. This makes sense because friends often influence each other to get work done.
In Nixon and Davis' case, though, Nixon is said to have had a breast augmentation while Davis had varicose veins on her legs removed.
Apparently, soon after the movie's release, [Cynthia Nixon and Kristin Davis] both paid a visit to Roosevelt Hospital on 10th Avenue for minor surgeries. "Cynthia had a breast augmentation and soon after, Kristin had the varicose veins on her legs removed," said an insider. "They both made sure they did it on the quietest day of the week." It could explain why Davis always wears long hems. Nixon, whose rep denied the surgery, could have been disappointed with her topless scene. Davis' rep had no comment.
[From The NY Post]
Cynthia Nixon's rep denies the story so it's probably not true. Her boobs were visible for a few seconds in the Sex and The City movie and they looked great. They're smallish and perky and she looked hot in a sex scene in the film, which kind of surprised me at how explicit it was. She deserves a lot of credit for agreeing to appear topless and for working the great boobs she has.
Nixon also appeared at an event on Tuesday and it doesn't look like her breast size has changed at all, so I don't think this story is true. Given the timeline they mention, Nixon had the surgery "soon after the movie's release" and not this week.
Nixon had breast cancer two years ago and it's possible she had a procedure to correct something related to that. She had a "very small spot" that was discovered in a routine mammogram removed along with six and a half weeks of radiation and is now cancer free. Judging from her breast size, which is about the same, she didn't have an enlargement. Nixon is now a spokesperson for the Susan G. Komen foundation and emphasizes the importance of early breast cancer detection.
Cynthia Nixon is shown on 6/17/08 at "The Public Theater's Annual Gala and the Opening Night of Hamlet at Shakespeare in the Park held at the Delacorte Theatre in Central Park" thanks to WENN.