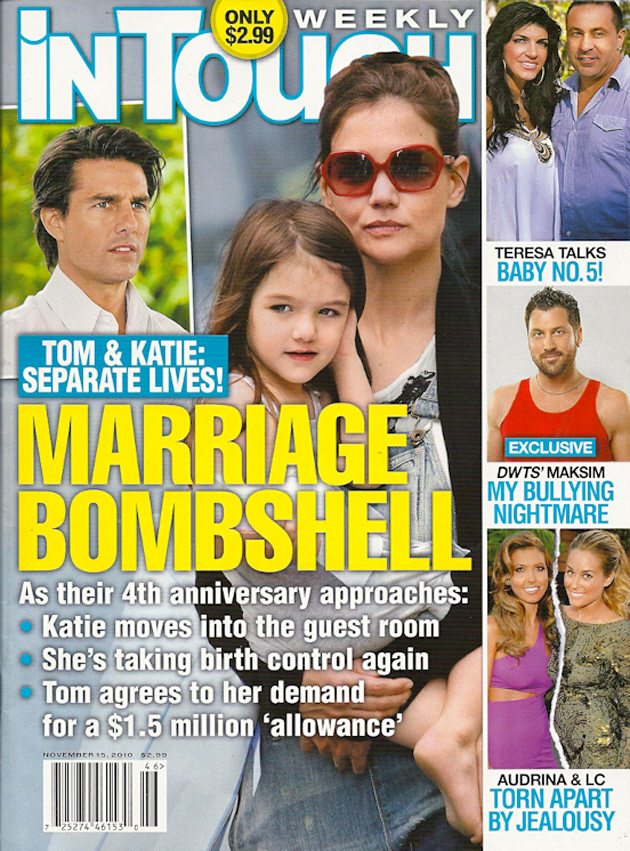 This week's In Touch Weekly is reasonably standard fare – Katie Holmes and Tom Cruise are living separate lives, they don't sleep in the same room, and add a dash of Xenu, and you've got the same breakup story we've seen the past four years. However, there are some details in this story that are especially good (excerpts courtesy of Jezebel):
*There's a book about the Church of Scientology that hasn't even been completed yet. In the book, there are several chapters devoted to Tom and Katie. The book will reveal things like…
*Katie and Tom sleep in separate bedrooms. SHOCK. You know what's even more shocking? They weren't on the same continent in weeks – Tom has been in Europe while Katie filmed in LA. She only recently brought Suri to Prague, where Tom is currently filming. So, yes, separate bedrooms, but they forgot "separate countries".
*The book reveals Tom's odd quirk: Tom looks down on people who get colds or flu. Because it's totally their fault.
*Tom and Katie have a full-time Scientologist staff with 18-hour work days, and the Church has staff members who are just dedicated to Tom Cruise. "They spare no expense with him," says a source.
*And finally: Katie's shopping allowance is $125,00 A MONTH. That's $1.5 million a year, just on clothes.
The clothing allowance thing is what gets me the most. Katie has some of the worst style of any high-profile female celebrity out there. In my opinion, her styling is consistently worse than Angelina Jolie's. Katie is worse than Jessica Simpson. Worse than whatever tacky sh-t Rachel Zoe can come up with. The fact that Katie pays SO MUCH for her clothes is both sad and funny. You really can't buy taste – and Katie is proof positive.