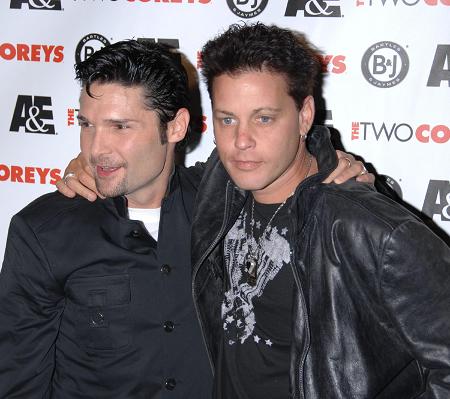 The Two Coreys season premiere got explosive last night, with both Coreys admitting that they'd been molested or raped by different men at different times as young teenagers. The two appear to be in some type of emotional standoff with one another, as they face each other down and almost appear to try to one-up each other for the sake of drama and attention.
Corey Haim says he was raped by a friend of Corey Feldman's, and seems to accuse Feldman both of knowing about it and possibly even witnessing something. The obvious conclusion/speculation is that Haim is talking about Michael Jackson, who Feldman was friends with in his early teens. Feldman also publicly supported Jackson during his first molestation trial. During Jackson's second trial, he admitted that Michael had shown him some naked pictures as a teenager.
Feldman counters Haim by saying he was molested and accuses Haim of never talking to him about it. There's some confusing back and forth between the two as they trade accusations about talking to each other while they were sleeping or some such thing. It appears like what they're saying is legitimate, but they're so dramatic in their discussion that it comes off as a little contrived.