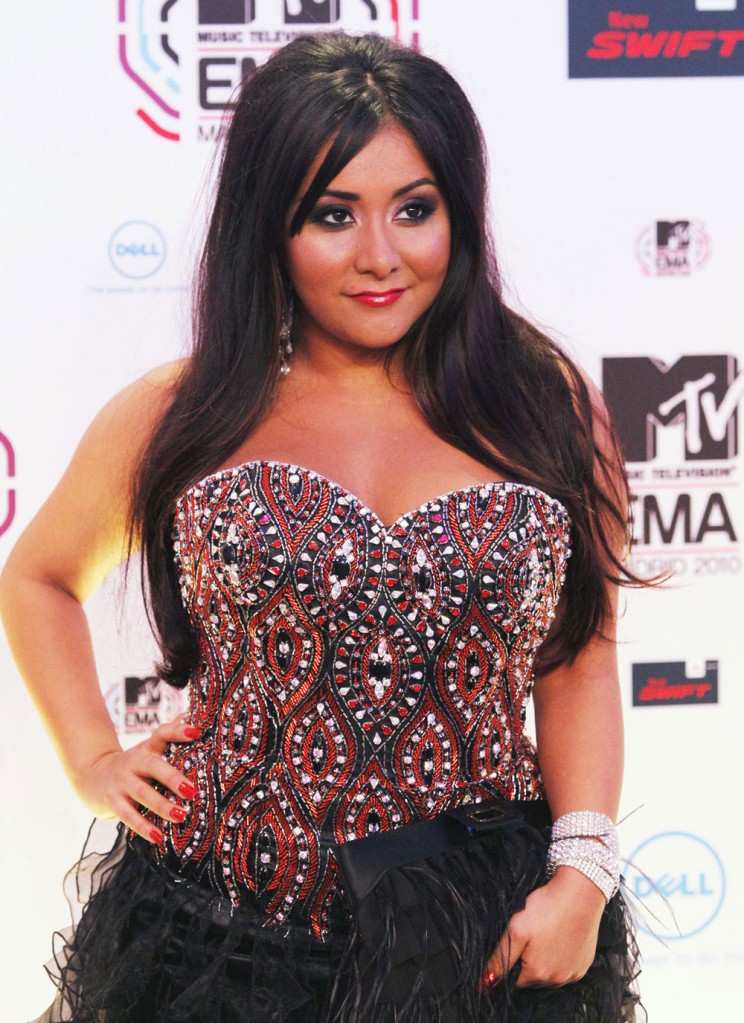 Now here's a celebrity sponsorship that makes sense. Snooki, the squattest alcoholic among the Jersey Shore's reality star cast, is having her 23rd birthday party next weekend sponsored by Lifestyles Condoms. This news is in the NY Post, which quotes a source who claims that Snooki turned down booze sponsorships because she "doesn't want her friends to drink cheap booze." It's not like any high end brands are clamoring to be associated with her. It sounds like Lifestyles isn't footing the entire bill, either.
Snooki is planning a huge New York birthday blowout — sponsored by a major condom firm. The MTV "Jersey Shore" star is throwing the bash in a VIP room at Pacha on Saturday night. And she's got some major backing — LifeStyles — as the party's sponsor. A source told us: "Snooki is an advocate for safe sex, and so was happy to have them as her party sponsor. They'll probably have a booth at the party giving out condoms to guests. But this party is really for Snooki's close friends, and she is personally paying for most of it. She has turned down a lot of liquor sponsors because she doesn't want her friends to drink cheap booze." A rep for Snooki, who turns 23 next week, confirmed Saturday's bash was sponsored by LifeStyles, and added: "Her message is if you are going to have sex, do it safely. It is going to be a great party."
[From The NY Post]
That's interesting that Snooki turned down booze sponsorships. You would think that she would do so out of concern for her image, since she has an arrest for public drunkenness, but she just doesn't want to be associated with "cheap" liquor. And she works so hard not to look cheap. I would bet the only other offer she got was from Mad Dog 20/20. She learned at a young age that the cheapest crap gives you a wicked hangover.
The squashed pumpkin has a new boyfriend. Snooki was seen at Disney World in Orlando, Florida, with her new man, Jionni LaValle, over the weekend. It must be serious as her parents were there too. Hope they're using protection, or maybe Snooki wants a baby so she can have a follow up for her upcoming dating show. It worked for Kendra Wilkinson.
Header image from 11/7/10 credit Target/Fame Pictures. Below images credit: WENN.com. Snooki is the Queen of Pickles or some sh-t in that green outfit on 10/30