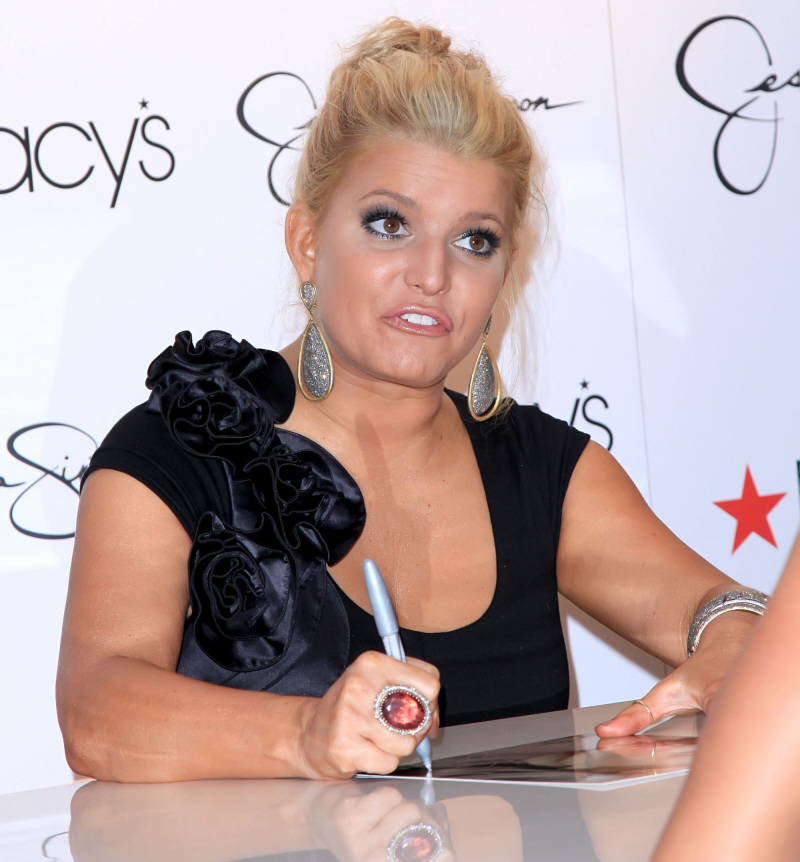 **The above ring isn't her engagement ring. I wish!
Jessica Simpson is aware of our judgment. She sees our judgment, and she is prepared to give us a media extravaganza in order to prove her love, to prove that THIS LOVE is for real. Since announcing her engagement on Sunday, Team Farty McObvious has issued a dozen different missives to Us Weekly, People Magazine, Styleist, and PopEater, amongst others. They are trying to create a story about two people who hooked up five months ago and fell crashingly in love with each other and are now going to marry and have lots of babies because it's true love and it has nothing to do with NICK LACHEY. Anyway, now that we've gotten the talk about her pervert father, the dire need for a prenup, and the alleged details of the 11/11 proposal out of the way, it's time to discuss the ring, yet again. We still don't have photos of the ring – a ruby with two diamonds, set in yellow gold, but you can see the ring here. Apparently, ruby is Jessica's birthstone. I've already said it looks like a tacky mall ring, and that if Eric picked it out, he has horrible taste. But now PopEater is theorizing that Jessica might have picked this sh-t out, and that she likely paid for it too. Oh, and it's Neil Lane. Ugh.
The sight of Jessica Simpson's $100,000 ruby-and-diamond Neil Lane engagement ring alone is enough to make you gasp, but the fact that she may have purchased it herself is enough to bring you to tears.

"No way could Eric, who doesn't have a job at the moment, afford to purchase such an expensive ring," a friend of Jessica's tells me. "Yes, he made a little bit of money in the NFL and is from a wealthy family, but unless his parents helped him out, Jessica must have paid for it herself."

Jessica, who unveiled her flashy bling on Nov. 14 at a Kansas City department store, has long made it clear that money is not an issue with her, but even so her friends are concerned about the star's $100 million fortune.

"First, we find out that Jessica doesn't want to have a prenup, and now we find out that she might have paid for her own ring. It just doesn't feel right to me," a family friend tells me. "We all want Jessica to be happy and finally find true love after all she has been through, but she doesn't understand that in the long run if she pays for everything it will hurt her relationship with any man."

Our friends at Stylist reveal that Jess's second engagement ring features an approximately 4-carat, oval-shaped ruby stone flanked by two diamonds from Neal Lane, known for his rare vintage jewels. Its worth is estimated to be at least $100,000.

"What's the big deal? Jessica has more money than she can ever spend," another friend explains. "If she wants to treat her future husband, friends or even herself to an expensive piece of jewelry, it's her business and no one else."
[From PopEater]
Do I judge Jessica for buying her own ring? I don't actually. I think it makes good sense for a woman if she's wealthier than her future husband to not only buy her own ring, but to pick it out as well. I mean, this is the ring that you will theoretically be wearing for the rest of your life. Why not get a good one? Of course, if Jessica did pick it out, then she's the one with tacky style. Also – while I don't judge Jessica for the ring, I do judge her for being with a guy who can't be bothered to do anything but be at her beck and call. Eric Johnson is like the new Kate Middleton.
Speaking of: Jessica totally got media c-ckblocked by Kate Middleton, right? HA. And you thought the next six months were going to be about non-stop Jessica's Wedding bullsh-t. Now Kate will get all of the attention meant for Jessica. That'll teach Jessica from trying to c-ckblock Nick Lachey.
Header: Jessica Simpson, courtesy of WENN.