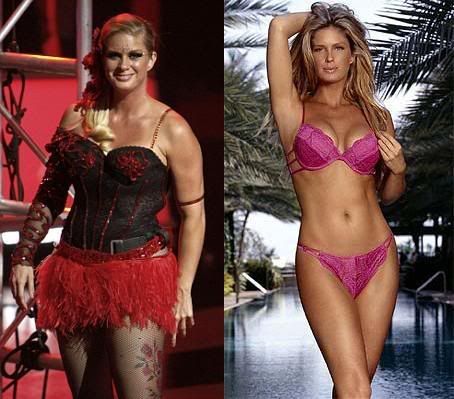 Model and Rod Stewart's ex-wife Rachel Hunter has been criticized all over the internet over the past couple of days for what appears to be a bit of weight gain. Hunter is one of the stars of NBC's Celebrity Circus. Yep, it's exactly what it sounds like: celebs who learn circus acts. Definitely a useful life skill that they can use later on. The women are all in tight sequined outfits, which are pretty unforgiving.
In some recent pictures Hunter is shown performing in a corset, and it appears pretty obvious that she has gained some weight. She claims that the show's vigorous routines and her naturally athletic shape have caused her to bulk up, making her appear heavier on camera. No matter what's going on, everyone from the mainstream media to internet bloggers are attacking Hunter and harping on her figure.
She made her name as the super-svelte swimwear model with endless legs.

But Rachel Hunter cut a chunkier figure when she appeared on the American reality television show Celebrity Circus, her somewhat sturdier shape barely contained by a corset-style outfit and unflattering fringed miniskirt.

The 38-year-old has complained that the athletic nature of Celebrity Circus has caused her to gain muscle and made her look bigger.

Her increased strength was certainly evident in her bulging biceps and broad shoulders – she has performed on the trapeze and walked the tightrope during the series.
[From the Daily Mail]
The Daily Mail is actually much kinder in their phrasing than a lot of the other articles out there. I think it's pretty clear that Hunter has put on perhaps a bit of weight and a good deal of muscle. It'd be hard to do her routines over and over and not get stronger. I think she still looks gorgeous; she just doesn't look the same as she did fifteen years ago. And who the hell does? It's sort of ridiculous that we expect that from people, models or not.
Images thanks to the Daily Mail.