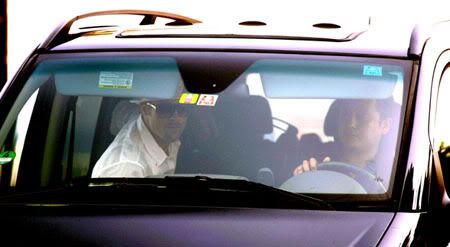 When Angelina's doctor announced earlier that he was going to make an announcement, as xiaoecho phrased it, some were worried, some expectant (like Angelina) and others rolled their eyes. The news is anti-climatic is no doubt in response to the immense clamoring for information from the press. He said she's still pregnant, gave vague information as to when she's due, and said she's fine and will be in the hospital for a while. Her health is absolutely normal, according to her doctor:
"Everything is normal," the obstetrician said in French, as he also said in English, "She is very well, and she's okay."

"It is simply a visit of surveillance, no birth," Sussmann said of his patient, who entered the hospital over the weekend. "Brad and Angie want everyone to know that everything is going well."

Saying that Jolie's "very, very nice," the doctor added, "She will stay in the hospital until the birth. I will stay with her."

What he was not specific about was the due date. "This is something you can't program, you never know for sure," he said.
[From People.com]
US Weekly adds the detail that Angelina's obstetrician Dr. Sussman said "in the weeks to come" when asked when she was due exactly. Her Kung Fu Panda co-star Dustin Hoffman said in an interview at Cannes that she was due August 19, but it is thought that may be a ruse to buy the actress some much needed privacy after the birth. She has said that she "plans to disappear for a month or so" after she gives birth. She's disappeared for the past month, so she just might be able to manage it if she stays holed up in that immense villa. We'll have to see when they announce the birth, because she may be planning to try and keep it a secret for as long as possible. Who can blame her? Show the love, Badettes.
Thanks to WENN for these photos of the hospital where Angelina is staying in Nice. It must suck there. Header image of Brad at the hospital thanks to Splash News.