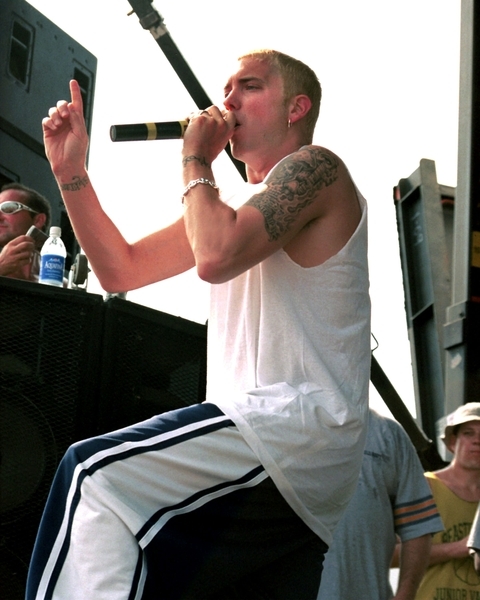 Two years ago Eminem beat up a guy in a strip club. No big surprise, right? Right. We haven't heard a lot from Eminem in a while, but it makes sense that when we would, it'd be for some kind of fight. Well even though the guy laid low for a couple years, he's decided that NOW is the time to sue the rapper – for the gigantic sum of $25,000.
A man has sued Eminem, claiming the rapper punched him two years ago while they were in the bathroom of a Detroit strip club.

The Detroit News reports Miad Jarbou of Royal Oak filed the lawsuit Thursday in Oakland County Circuit Court seeking more than $25,000 in damages. The suit claims Eminem punched him July 13, 2006, at Cheetah's On the Strip Gentlemen's Club.

Eminem spokesman Dennis Dennehy declined to comment Friday on the lawsuit.

Eminem, whose real name is Marshall Bruce Mathers III, wasn't charged following reports of an incident at the club in 2006.

The strip club is located on Eight Mile Road, the border between Detroit and the northern suburbs made famous by Eminem's hit 2002 film "8 Mile."
[From the Huffington Post]
The incident happened after Jarbou and a friend approached Eminem for an autograph in the club's bathroom. The rapper was at the urinal, and his bodyguard turned Jarbou away. According to his account, he was trying to explain to the bodyguard that he wanted to meet Eminem when the rapper turned around and punched him.
He's claiming the classic lawsuit issues due to the incident; that he's undergone physical pain and suffering, emotional distress, has dealt with ongoing serious injuries requiring medical treatment and suffered embarrassment, humiliation, the burden of medical expenses, wage loss and other economic and non-economic damages. So pretty much that one punch ruined his whole life.
Normally I'd think a lawsuit over this was stupid, but the guy's only asking for$25,000. That's like a weekend in Vegas to Eminem. I'm surprised he hasn't just paid it. It seems fair for punching a guy for pretty much no reason.
Images thanks to PR Photos.