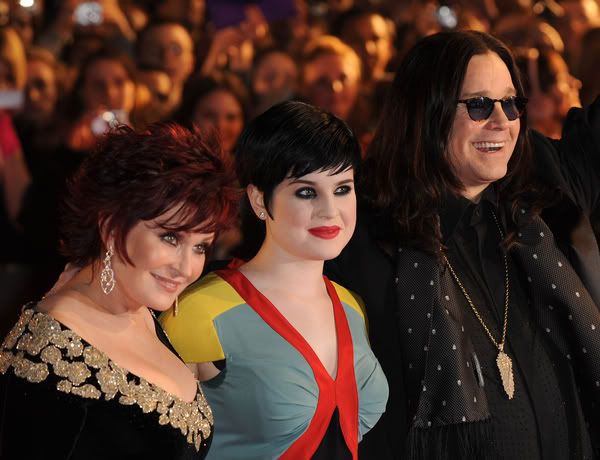 This morning we covered the story that Heidi Montag and Spencer Pratt are pitching their own variety show, which they envision as a modern version of Sonny and Cher's show. Now comes news that the Osbournes have signed a deal with FOX for a six episode variety show starring Sharon and Ozzy and their two more publicity-seeking children, Jack and Kelly. Variety reports that it will be a throwback to 70s variety shows like Sonny and Cher and Donny and Marie. It will include audience participation skits, comedy, and gameshow-type elements. This could either be a mish mash or they might be able to pull it off if it's well produced. It will be produced by James Sunderland, who is an executive producer on the show Sharon is a judge for, "America's Got Talent," and it's planned for a Christmastime release:
Mike Darnell, Fox's prexy of alternative programming, envisions the show as something of a throwback to the heyday of variety skeins such as CBS' 1970s staple "The Sonny and Cher Comedy Hour" and ABC's "Donny and Marie."

The plan is to blend musical perfs by the Osbournes and others with comedy sketches as well as gameshow, audience participation and out-of-studio taped elements. One idea being kicked around is for a segment dubbed "The Osbournes Meet the Osbournes," in which Ozzy and Co. spend time with another Osbourne clan, Darnell said.

"We've been talking about how to renew the variety show concept and make it feel new for years now," Darnell said. Deal came together quickly in the past two weeks as Fremantle circulated a DVD to major nets with comedy bits featuring the family and other prototype elements. Multiple nets bid on the show, but it landed at Fox in part because Sharon Osbourne and Darnell hit it off and had similar visions for the show.

Darnell hopes to launch the series, which will be shot in Los Angeles, with a Christmas special. The emphasis on music and performance would seem to make the show a natural companion for "American Idol," but Darnell said any skedding talk was premature.

Eugene Young, chief creative officer for FremantleMedia North America, said the show would "tap into what the Osbournes do best, which is be themselves."

Some segments will include the former Black Sabbath frontman "skewering pop culture," while others will "tap into the sibling rivalry" between 23-year-old Kelly and 22-year-old Jack, Young said.
[From Variety via Huffington Post]
I liked Sharon Osbourne's talk show, and maybe I'm the only one because it was canceled after one season in 2003, but I think she's fun and can keep the show moving. Ozzy mumbles a lot and is hard to understand, but maybe if he sticks to performing and hanging around he'll do fine. Kelly is a decent singer and had that "Papa Don't Preach" cover as well as an album. She also appeared in the London production of musical Chicago.
I would watch one episode of this to give it a try. The Osbournes are going to have to control their swearing though or there's going to be a lot of bleeping and editing required. That gets old quickly so they hopefully have enough other entertainment to make it worth watching.
Photo Credits: Kelly Osbourne is shown with her boyfriend Luke Worrall at the Glastonbury Festival on 6/27/08 and 6/28/08 thanks to Nick Pickles for WENN and Danny Clifford/Hottwire.net for WENN. Ozzy, Sharon and Kelly are shown at the Brit Awards on 2/28/08, thanks to PRPhotos.