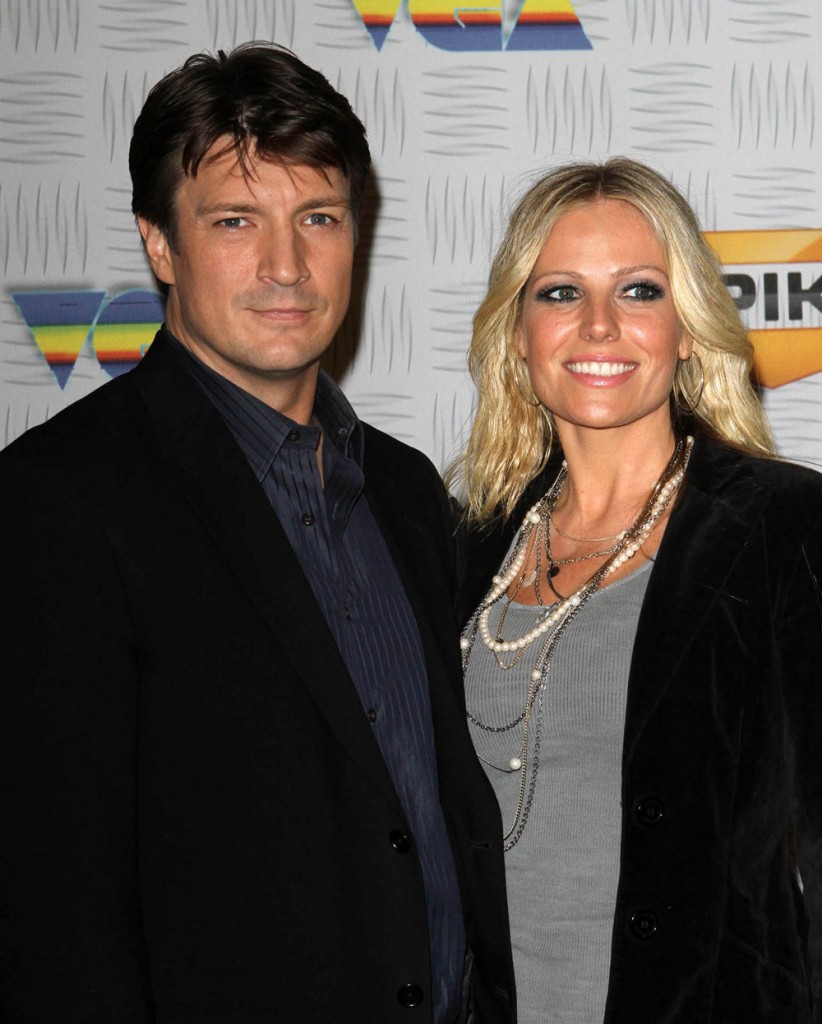 Last time I did a story on a couple who weren't Brad and Angie or LeAnn and Eddie, the responses ranged from "It's a nice change" to "Who are they and why do we care?"
This week's non-A-list lovebirds are Nathan Fillion and his girlfriend, Kate Luyben. I'm sure the replies will range from "Who?" to "Castle!" to a few really loud squeals of "FIREFLY!"
I personally never saw Firefly or Serenity, but I like Nathan on Castle. I just keep forgetting to watch it because it's on opposite Hawaii Five-0. Shirtless Alex O'Loughlin FTW.
Nathan's girl is an actress who starred as Natalie on True Blood and as Woman Buying Videotapes in The 40-Year-Old Virgin, according to IMDB. And she's apparently very understanding of his boyish tendencies.
Has Castle's Nathan Fillion found his queen? Although they've only been dating for several months, the 39-year-old star of the ABC cop drama and actress Kate Luyben looked head over heels for each other while attending the American Music Awards on Nov. 21.

"He's always happy to show Kate off," an insider says of never-married Nathan, who has dated Vanessa Marcil and Darla Delgado. "She might be a keeper."

One reason their relationship works: Kate, 38, gives him plenty of space for pastimes like playing video games and hanging in his 'man cave' with pals. "He's cute and charming but very boyish," says the insider. "Kate lets Nathan be himself."
[Star, print edition, December 13, 2010]
Hanging out in a 'man cave' with other guys usually leads to gay rumors, but this doesn't seem to be the case with Nathan. I'm sure the Firefly fans will correct me if I'm wrong about that.
Before the American Music Awards, Kate also attended the Castle season 3 premiere party in LA on September 13, but the two have apparently been together for longer than that.
Castle airs on Mondays at 10 PM on ABC, opposite Hawaii Five-0.
Nathan and Kate are shown 12/11 and 11/21. Credit: WENN.com