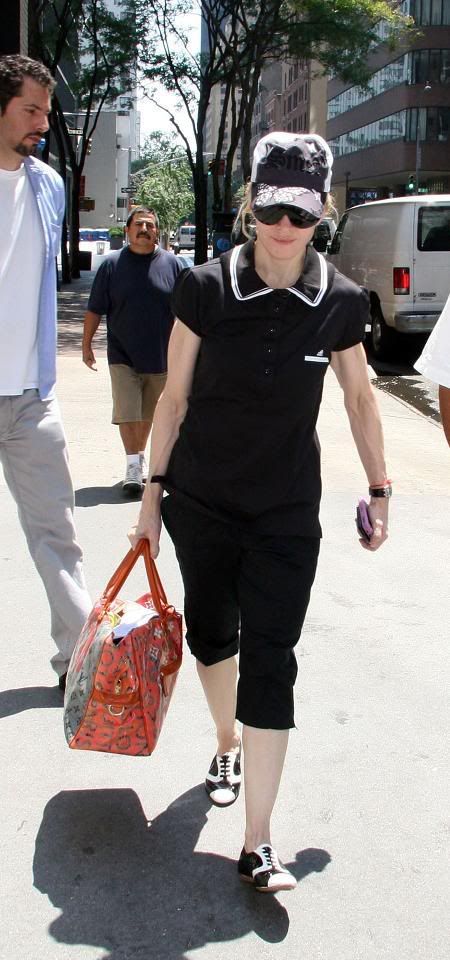 Poor Madonna. Seriously, poor, poor Madonna. The woman has it rough. Bad things keep happening to her lately, and she clearly has nothing to do with them or any control over it. Her life is just in one of those "sometimes bad things happen for no reason" places right now. Madge isn't feeling so hot lately, due to the stress of probably cheating on her husband with a married man, breaking up his marriage, and nearly losing her own. Who would have thought that wouldn't make you feel like a good person?
Madonna's physical and mental health are suffering as a result, and she's at one of the lowest places in her life, according to friends.
…for the first time, despite her incredible fitness regime, her health has started to suffer. Doctors discovered Madge is anaemic, a surefire sign she is overdoing it, and she also suffered a painful knee injury. Madge has had a doctor, physiotherapist and a chiropractor on duty during rehearsals for her forthcoming Sticky & Sweet world tour. This week medical experts ordered her to take her foot off the pedal on the punishing dance routines because her body simply cannot cope.

Madge's meltdown follows some testing times in her personal life. A source in her camp said: "Madonna is doing less than OK. She has been rehearsing for the tour and she is totally miserable… She's down physically and mentally. The situation with Guy is very, very tense. The way the press are going crazy with the A-Rod story, her brother's book and her physical exhaustion are all taking their toll.

"She feels nobody has taken her side. One of her closest pals says she has never seen Madonna so low. She has been feeling low and looking really gaunt. Madonna was told to go soft on work and rehearsals, so she will now take one proper day off every week and go easy in the mornings. She has a blood analysis done every few days — including one during last Friday's rehearsal in front of everyone."
[From The Sun]
She feels nobody has taken her side? Did she really expect people to? I realize no one can really know the details of a marriage except the two people in it… but come on. How much empathy did she expect people to feel? In some respects I dislike her more because she broke up someone else's marriage, but her own seems to (technically) still be together, which seems pretty damn unfair. I doubt it'll hold for long, but it still grates on my nerves.
According to The Sun, Madge is relaxing/recuperating in the Hamptons at BFF Gwyneth Paltrow's home. Perhaps she can use some of her Kabbalah magical wisdom to look deep insider herself and take a little responsibility, instead of being annoyed with everyone else for not showing her the proper amount of sympathy.
Here's Madonna arriving at the Kabbalah Centre in New York on Saturday. Photographer: Michael Carpenter. Images thanks to WENN.