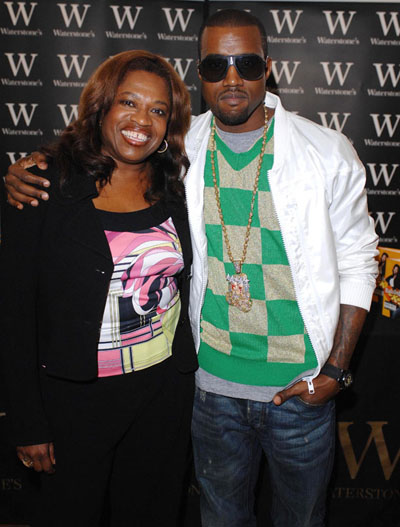 I have given Kanye West a pretty hard time in the past. So I think it's important to be just as effusive when he does something praiseworthy. Kanye started a foundation in his mother's honor after she died. Along with the foundation, Kanye has joined up with MTV to produce an episode of the Choose or Lose documentary in which he visits veterans returning home, and highlights the issues and hardships they face.
In this next installment of "Choose or Lose," MTV's ongoing campaign to bring awareness to young veterans issues, MTV News and Kanye West have teamed up to tell the stories of returning veterans in the powerful documentary "Choose or Lose & Kanye West Present: Homecoming" set to air on Monday, July 28 at 10pm ET/PT.

In this one hour special, Kanye, along with Sway Calloway, give recently returned Afghanistan and Iraq war veterans the surprise of their lives by unexpectedly visiting their homes. Viewers will see first-hand the difficult and often painful challenges young vets face when they return home.

"There are hundreds of veterans out there who are falling through the cracks. They make the ultimate sacrifices for us by laying down their lives, but it seems like a lot of them just get forgotten about," West said. "I know my music inspires and helps a lot of people, but you can always do more. I teamed up with MTV and took the opportunity to share the spotlight with these veterans and hear their stories. I went to their homes to listen and get their firsthand experiences. I wanted to hear their stories."
[From Concrete Loop]
The best part about this – aside from bringing the important issue of young veterans to the attention of the public – is that the Dr. Donda West Foundation gave each veteran some kind of major, life-altering gift – like full tuition for college, rent, or paying off their debts. From the synopsis, it sounds like they're talking about something truly substantial – not a month or two of rent or partial assistance paying for school books. I can't imagine what a powerful and wonderful gift that must have been for all involved. It's great to bring attention to an issue, but even greater when you can do something like improve someone's life in a better way. Big congrats to Kanye for working on this.
Here's Kanye with his late mother Donda West at a book signing for "Raising Kanye: Life Lessons From The Mother Of A Hip-Hop Superstar" at Waterstones bookstore in London on June 30th, 2007. Images thanks to WENN.