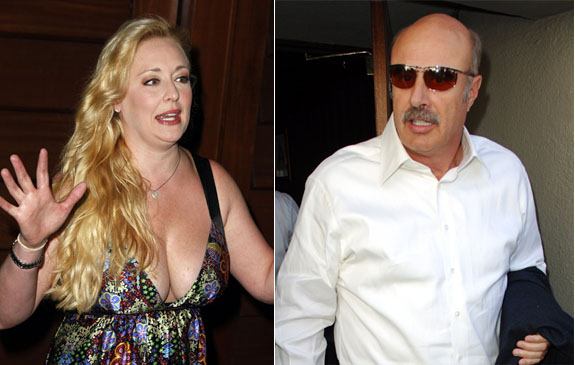 In January Dr. Phil received a lot of well-deserved flack for visiting Britney Spears in the hospital when she was on a mental health hold, and planning a special on his show around her, which was ultimately canceled. Phil was lambasted in the media for revealing details of Britney's medical condition to the press, a clear violation of patient confidentiality, and Britney's own family said that although they did ask Phil to get involved they didn't give him permission to make public statements about her.
Then in April Dr. Phil and his producers showed incredibly poor judgment again by bailing out the ringleader in a brutal YouTube beating in which six teen girls in Florida lured a classmate to one of their homes and beat her unconscious, recording it all and posting it online. The Dr. Phil show paid over $30,000 to free the girl in order to secure an exclusive interview with her and her family. Instead of admitting their gross error in judgment, producers at the Dr. Phil show blamed the guy they sent down to Florida with the money, saying it was all his idea and he somehow went down there on his own with a lot of cash. That special was also scrapped due to media backlash.
Phil found yet another personal tragedy to exploit – his people arranged for Mindy McCready to go to rehab in exchange for all the salacious details of her breakdown. The 32 year-old country singer has faced a string of personal problems in the past few years including an addiction to painkillers that led her to forge prescriptions, abuse by an ex boyfriend, and multiple arrests. She was jailed from September to December of last year for violating probation and most recently overdosed on Ambien and vodka in an apparent suicide attempt. But Dr. Phil planned to fix everything for McCready by paying for her to go to rehab and putting her on his show to dish out his unique brand of homespun sound bites of wisdom. Luckily that's not going to happen, though:
Mindy McCready is going back to rehab after trying to do herself in with her favorite swiggable and pharmaceutical — vodka and Ambien — and we hear Dr. Phil's inserting himself in the whole she-bang.

TMZ has learned the troubled McCready went off the deep end late last week after getting dumped by her boyfriend and collapsed while on the phone with her mother. She downed a bottle of vods and pills in what we're told was a "suicide attempt."

She's headed to Arizona for treatment, and a source says that was all Phil's idea. We're told he's taken Mindy under his wing as a "personal project." As for whether or not she'll be on the show, time will tell.
[From TMZ]
Like his other attempts to use stories of personal tragedy to boost ratings, Dr. Phil has backed down from putting Mindy on his show. TMZ reports that reps for the show say Mindy won't be on and state that "Dr. Phil has not treated patients one-on-one since his show went on air. Ms. McCready's situation is private and we respect her right to privacy in a difficult time." It's been a while since I saw the Dr. Phil show, but he usually treats patients in groups and by dragging their families in too. It's likely he planned to do something like that here so the defense is pretty weak.
TMZ doesn't pull stories out of thin air like the gossip rags and they seem to have solid sources before they run with something. I would bet this was true and that Phil's people realized they were about to enter another PR quagmire and backed down. At least McCready got free rehab out of it.
How much longer is Dr. Phil going to stay on the air? There were all sorts of stories after the Britney debacle that he was about to get canned because he had pissed off his boss, the all mighty Oprah.
Mindy McCready is shown below at "The Queen of Hearts Team participates in the 2008 WSOP Ladies Event at the Rio Hotel and Casino" on 6/8/08. She's also shown the day before on 6/7/08. Credit: Judy Eddy / WENN. Dr. Phil is shown on 3/20/08. Credit: WENN