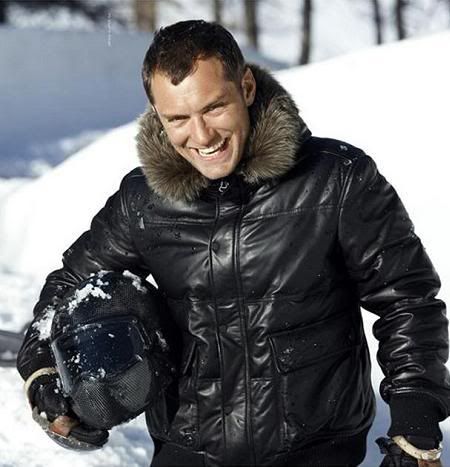 35 year-old British actor Jude Law has been gradually losing his hair and has been seen out with a much more prominent widows peak as the crown of his head is exposed. That's nothing to be ashamed of and since my mid 20s I've been attracted to men who are bald or balding for some reason – not the paunchy type with wisps of a comb-over, but the proud guys who cut it short or shave it off and don't try to hold on to their hair. Law is kind of in between and has cut it short at times but has also grown it back and hasn't rocked a bald head like Bruce Willis.
In Law's latest ad campaigns for Dior and Dunhill he's had either some cosmetic or Photoshop help with his hair. The Daily Mail points out that he's sporting much more growth at the top. It's not really his decision whether advertisers chose to make his hair look like it did five years ago, but it's pretty obvious that it's not the same. Law's rep says there hasn't been any retouching done, though:
The widow's peak so starkly evident in more recent photos has been filled in.

The style makes 35-year-old Law look a little more as he did when he first became famous in movies such as The Talented Mr Ripley.

While women in the public eye often have imperfections airbrushed out, Law has had perfection brushed in – either through artful hairstyling or plain artistry.
Airbrush expert Chris Bickmore said: 'I wouldn't say it was hairstyling as they can't style hair that isn't there.

'It's definitely been retouched to bring hair into the gaps where he's receding.
'It's not really that difficult a procedure, no more than one and a half hours.'

A spokesman for Jude Law said: 'I can categorically say there has been no digital enhancement. It is nonsense.'
[From The Daily Mail]
Law was most recently spotted out with model Lily Cole, 20. He's definitely trying to turn back the clock in his personal life as well as with his hair.
There's nothing shocking about airbrushing, though. Women in magazines are subject to it constantly so men may as well be worked over too.
Picture note by JayBird: Here's Jude Law's high profile advertising campaign for Alfred Dunhill and Dior. The campaign was shot by acclaimed photographer Greg Williams, who was responsible for behind-the-scenes stills of the recent Bond and Bourne movies. Images thanks to Splash.