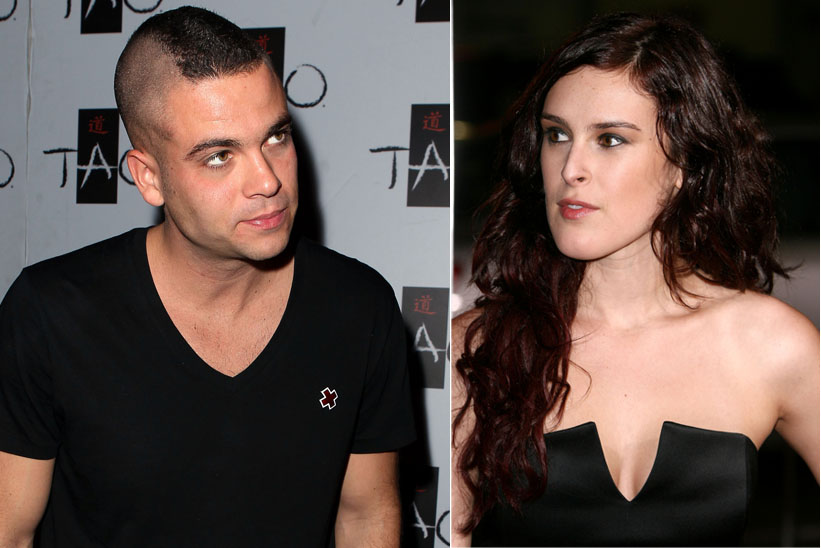 There was a rumor that Rumer Willis (see what I did there?) was dating Chord Overstreet, one of the new guys on Glee.
But Enquirer says it's not Chord, but Hollywood bad boy Mark Salling that Rumer has hooked up with, and she has an agenda: She wants to be on Glee.
There's a secret behind Rumer Willis' hot new romance with Glee hunk Mark Salling — she wants him to get her on his show!

The 22-year-old daughter of film stars Bruce Willis and Demi Moore set her sights on Mark in October, and the relationship "quickly became intense," an insider told the Enquirer.

They've already met each other's parents — and Mark has proved to be a big hit with Demi, Bruce and Rumer's stepdad Ashton Kutcher.

But Rumer wants more than a romance. She sees Mark as her ticket to TV fame, says the insider.

Rumer Willis is shown on 10/11/10. Credit: Fame. Mark Salling is shown on 2/10/10.

"Rumer's wanted to be a singer for years, and she thinks Glee would be the perfect vehicle to showcase her talent," the insider continued.

…Before meeting Rumer, Mark, 28, earned a reputation as Hollywood's "hookup king" and has been linked with Paris Hilton, The Hills hottie Audrina Patridge, Disney cutie Selena Gomez, Bachelor winner Vienna Girardi and singer Samantha Marq.

"But Rumer definitely has settled him down," the insider maintained.

And Mark is doing his best to pull strings for Rumer with Glee execs, says the insider. So far, however, nothing has been finalized.

Said the insider: "Rumer has dreams of her and Mark becoming Hollywood's next power couple."
[National Enquirer, print edition, December 20, 2010]
If this article has any truth in it, Rumer sounds delusional.
First, Mark Salling is too much of a player to settle down right at the height of his fame.
Second, Mark reportedly isn't getting along with Glee's producers, so Rumer would be better off dating Lea Michele to get a guest spot on Glee.