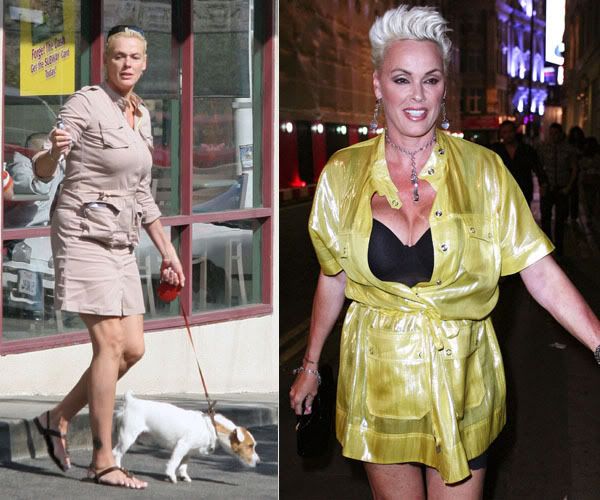 Euro boozehound Brigitte Nielsen went public in a big way with her total body overhaul, broadcasting her boob job, lipo and facelift on German TV. Nielsen recently emerged after a short healing period, and I have to admit, aside from the horrid wardrobe and the haircut she's had since 1988, the broad looks pretty good.
Danish actress Brigitte Nielsen, who made headlines for going under the knife live on German TV, made her first post surgery appearance at a London club on July 24.Hollywood hardman Sylvester Stallone's ex wife looked 10 years younger and 10 pounds lighter after the surgery.The 'Red Sonja' star's surgery was broadcast uncensored on "From Old to New: Brigitte Nielsen in the Celebrity Clinic."It included liposuction on her thighs, Botox treatment and a breast reduction."I know I will be breaking a taboo," New York Daily News quoted her as telling Daily Mail."But I`m sure that it will provoke a new discussion. It`s time things change. I feel 30 and want to look that way again," she added.
As long as Brigitte is happy with the surgery and her health hasn't been compromised, then good for her. But I wonder if she will look as great with her clothes off in Playboy. Based on the photos that recently emerged, she still looks like a lot of her new figure is being held in by good undergarments. I also hope this doesn't give Brigitte permission to go back to abusing her body and skin with hard drinking and smoking. That's what caused her to look like a hag from hell in the first place.
Picture note by Celebitchy: Brigitte Nielsen is shown out in NY on 7/24/08. Credit: ISO IMAGES/Bauergriffinonline.com. She is shown for comparison on 9/19/06. Credit: ISB/ZFI/BAUER-GRIFFIN.COM. Also thanks to In Touch, who put these two photos side by side in their latest issue. Honestly Nielsen doesn't look as bad as she does in that photo to the left in any other photos I could find and she's just wearing more makeup here. I found pictures of her from February, which are below, and there's not that much of a difference. Credit: Scott Alan / PR Photos