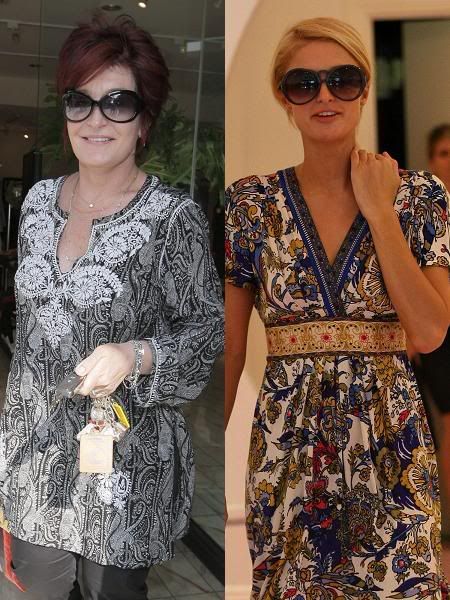 You could never accuse any of the Osbourne family of mincing words. Least of all fearsome matriarch Sharon. Though I'm not sure exactly what she thinks her own talent credentials are, Sharon has sent a mild insult Paris Hilton's way, noting to Parade magazine that she "has no talent." Which sound like more than a mild insult, but Sharon manages to say it in a way that is almost gentle, at least for an Osbourne.
America's Got Talent judge Sharon Osbourne says Paris Hilton would never wind up on the hit NBC show.

Why? "She has no talent!" Osbourne, 55, tells Parade.com. "I'm sure Paris would tell you that herself."

The only thing going for the 27-year-old heiress?

"She's got a look that a lot of younger girls liked and copied," Osbourne says.

Hilton managed to gain fame because "the timing was right for her," Osbourne adds. "A lot of younger women looked up to her. She's a very sweet, nice girl. But that's it. Then you put a full stop. It's over. So I'd say Paris is infamous."
[From Us Magazine]
Paris supposedly dated Sharon's son Jack (I think it was alluded to once or twice on their MTV show) and has occasionally hung out with daughter Kelly. But I don't think they're all that friendly anymore. Sharon is obviously completely correct – Paris has no talent. Except perhaps for branding herself. She's done a good job of turning that wonky face of hers into a near-industry.
Here's Paris Hilton shopping and reading her own book on June 28th. At least she knows how it ends. Header of Sharon Osbourne in Beverly Hills on July 18th. Images thanks to Fame.