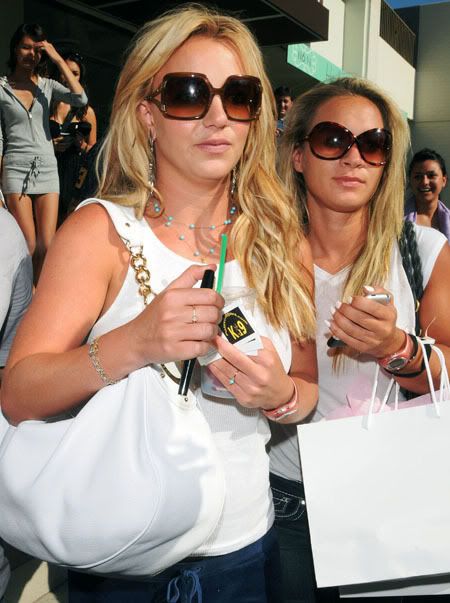 Britney Spears hit Robinson Boulevard yesterday to shop and let the hoard of paparazzi know how well she's doing. She was with her assistant and bodyguard and looked refreshed after her Mexican vacation. Her hair keeps looking better and she's cleaned up well. Britney hit one of Christina Aguilera's favorite restaurants, Little Door, later that night.
The Daily Mail is reporting that director Quentin Tarantino wants Britney to play a "killer lesbian stripper" in a remake of the 1965 camp classic Faster Pussycat! Kill! Kill!. Britney loves playing stripper, and she's shown that she's willing to play a lesbian so it's a natural choice:
The singer was apparently chosen by the Pulp Fiction director to play dancer Varla in a remake of the 1965 cult film Faster Pussycat! Kill! Kill!

The movie sees three thrill-seeking strippers encountering a young couple in the desert.

Spears' character murders the boyfriend with her bare hands before taking the girlfriend hostage. The troubled singer will also have sex scenes with another girl before the drama ends in a blood-bath.

Tarantino is in discussions with other Hollywood stars to take the roles of the remaining two strippers.

A source said: "Quentin is convinced Britney will be brilliant. She's delighted. She thinks it could turn her career around.

"It is perfect Tarantino material. He wanted to get Britney first. She's playing the most important character."
[From The Daily Mail]
Britney can sort-of act. She didn't do a terrible job on How I Met Your Mother or Will & Grace, and this isn't the worst idea in the world. My first instinct would be to say this is a fake story, but since it's Quentin Tarantino we're talking about it does have a ring of truth to it. It's a gamble to put Britney in a movie, though. Singers may have a lot of fans and get coverage in the tabloids but that doesn't always translate well to the big screen. Just ask Mariah Carey – or Britney circa 2002.
Update: Britney's rep denied this report, saying "she's concentrating on recording her next album."
Photo credit: WENN and Fame Pictures