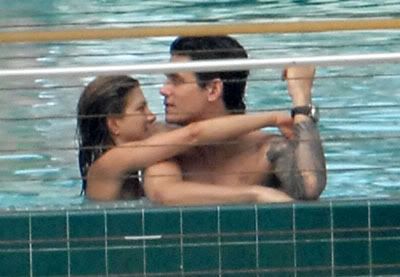 Aniston and Mayer on 5/10/08. Credit: Splash News
Actress Jennifer Aniston, 39, and pop singer John Mayer, 30, have the tabloids working overtime to speculate on the state of their relationship. Are they fighting? Is Jen pressuring John for kids? Is Jen too clingy because she's actually been seen hugging him in public? The latest report is from UK's Mirror, which claims they've broken up. The Mirror is just about as reliable as Star Magazine, which means there's like a 50/50 chance that the story is completely made up. The stories that aren't made up are not necessarily true, they're just based on more than a journalist's imagination.
If you read between the lines on this story, it seems to be based on the fact that John is in Mexico with friends while Aniston stayed in LA. Maybe she couldn't find anyone to watch her dogs for her or something. These two were just seen staying at a suite at the Four Seasons in LA over the weekend. Were they trying to get in some sex before their little break, or where they breaking up? (OK!'s article claiming they were at the Four Seasons together has been deleted, though, and there is no google cache of the story. Maybe there's some truth to this rumor.)
Unlucky-in-love Jennifer Aniston has been dumped by her latest boyfriend, rock singer John Mayer.

The pair initially decided to spend some time apart… before making the break official earlier this week.

It is yet more heartache for the gorgeous Friends star, who has been unable to find love again since her divorce from Brad Pitt four years ago.

News of her splitting up with Gravity singer John comes just weeks after the couple were rumoured to be considering marriage.

"There's been a bit of tension for some time," says a source close to 30-year-old John. "They initially opted for a break, hoping a trial split might make them stronger. Sadly it doesn't seem to have worked.

"John took the decision to end things as he felt he just wasn't ready for the level of commitment that Jennifer deserved.

"Contrary to reports, Jen didn't want to have kids or marry this year, but she did want to set a timetable for their future together.

"She also wanted him to assure her he would cut down his tours in the future when they did eventually have children.

"Initially, Jennifer was furious when he told her of his decision but now she's simply sad – not to mention a little heartbroken.

"They have spoken on the phone since the split and are trying to remain on good terms.

"But unless John has a dramatic change of heart, it's unlikely they'll rekindle their romance."

While he holidays with pals in Mexico, Jennifer, 38, remains in LA, working.
[From Mirror.co.uk, thanks toCandyKay for the tip]
The NY Daily News adds a pinch of credence to this story. They say that Aniston "is already dating someone else in LA" and that Mayer had to use some special eye cream to reduce puffiness before a performance, perhaps because he was crying. My eyes get puffed up when I'm hung over, so maybe that was his problem. Preparation H really fixes that. There's nothing gross about it if you reserve a tube just for your face.
It seems inevitable that these two would break it off before the end of the summer, but I was really hoping they would last. Maybe there can be a "happily ever after" for them – or at least a "happily into next year" and these stories are just rumors. I wanted to see them together for a while. Neither of them make my short list of favorite celebrities, but they kind of make sense as a couple to me. We'll have to see what tomorrow brings and if this rumor is true.