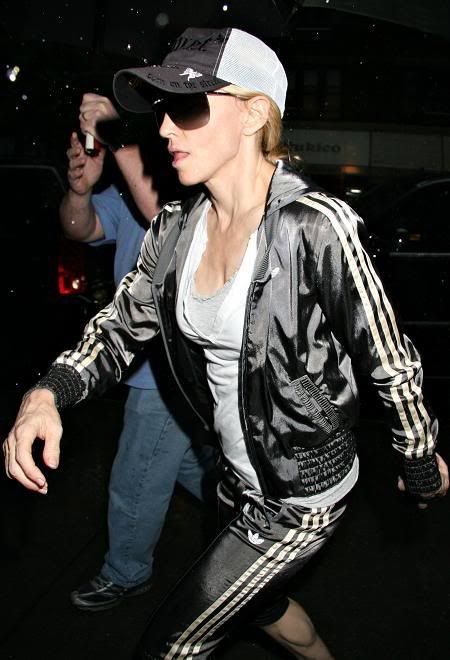 After rumors floated around for the last few years that Madonna is trying to adopt another child, it appears that it could be coming true. The Sun – which has had a lot of Madonna exclusives that have turned out to be correct – claims that Madonna and husband Guy Ritchie have resumed their attempts to adopt three-year-old Mercy James from Malawi.
Malawi has an incredibly challenging adoption process for foreigners, and according to The Sun that stress contributed to Madonna's marital troubles, which is why she and Guy originally stopped working towards the adoption four months ago.
But officials yesterday confirmed the star has resumed her adoption bid — which pals say proves their marriage is back on track. Malawian adoption minister Penstone Kilembe said: "Madonna's representatives have been visiting the girl. The adoption is now advanced — all the government is waiting for is Madonna to forward the petition of adoption formalities. Then Mercy will be able to leave the country for a new life."

Pals of Madonna, who turns 50 on Saturday, say she is keen to have a sister for her adopted Malawian son David Banda, three — and feels her marriage is again strong enough to cope. A close family friend revealed: "The adoption process in Malawi is so long and stressful that all the legal wrangling put a huge strain on their marriage. They dropped proceedings to pour all their energies into each other. But Madonna now feels they are stable enough to press ahead with the adoption again."

The friend said Madge "fell in love" with Mercy when they met at her orphanage last year. However, the girl's gran Lucy Chekechiwa, 60, said she has been asked repeatedly by officials if Mercy could be adopted by an "unidentified foreign family" — but was firmly against it.

Speaking from her village in Zomba District, Lucy said: "… Twice I have told the adoption people that I do not want Mercy to go outside the country. But they keep on at us. Now they say that Mercy will be leaving us, but can return at age 18. Yet I might not be alive then."
[From The Sun]
The Sun says that Madonna's last attempt at adopting Mercy was halted when her uncle blocked their adoption application.
Nearly two years ago Madonna tried to adopt another Malawian girl named Jessica Kondanani. That didn't end up happening, but Madge has basically "cut in line" in front of other people that were following all of Malawi's strict adoption rules and were trying to give homes to kids she's wanted. Mercy's grandmother not wanting her to leave the country probably won't be enough to stop Madonna. Though I really doubt her marriage is in such a solid state that she should be adding to her family.
Here's Madonna braving a New York City downpour to get to the Kabbalah Center on August 2nd. Images thanks to Fame.