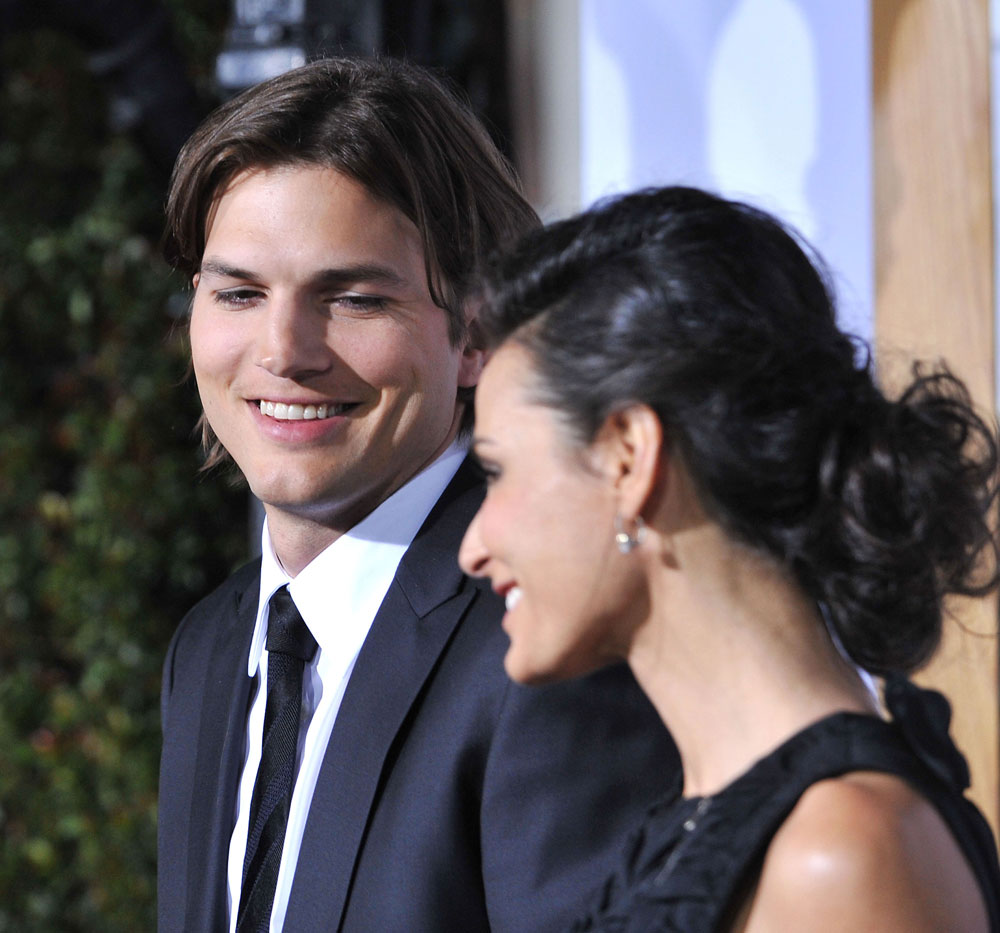 Ashton Kutcher and Natalie Portman are still promoting the hell out of their f*ck buddy film, No Strings Attached, which is out this Friday. Ashton has a new interview with Redbook [via US Weekly] in which he reveals that he waited before having sex with Demi and was friends with her first or something. Maybe she just wasn't into him at first and thought he was an idiot. It's hard to tell what he's saying exactly, because he's not the most articulate person. That's probably why he prefers communicating in short bursts of text speak.
"My relationship was a relationship first," the 32-year-old actor tells Redbook. "Well, there wasn't anything physical happening for awhile, but from the get-go it was more than friendship. It was a deeper connection than that."

The Iowa native — who once dated January Jones and the late Brittany Murphy — claims that all men reach a point where they want to leave their bachelor days behind them.

"I think guys wind up…not wanting another guy sleeping with the girl they're with," he reasons. "But eventually everyone wants something more. We all have that desire for something special, something committed. We all want to be The One."
[From US Weekly]
Yeah, guys like Ashton want to make sure they're the only guy "sleeping with the girl they're with," but they don't want that "girl" to be the only girl they're sleeping with. It doesn't work both ways for them.
In another interview, Kutcher talks about how his "youngest daughter" went on a date, and was prescreened by him. Kutcher's "youngest daughter" would be Tallulah Belle, who turns 16 next month. I wonder if Bruce Willis is going to have a little talk with Ashton for not only claiming Tallulah as his daughter, but for weaseling his way into the traditional boyfriend-screener role that Bruce has so willingly taken on in the past. Who would you find more intimidating, Die Hard or Dude, Where's My Car?
"I think holding the door for the girl that you are having casual sex with is very romantic," Kutcher told me during a recent one-on-one interview we had in Los Angeles.

"My youngest daughter just went on a date with a kid," Kutcher continued. "I made him come in. He said hello. He walked her to the door at the end of the night and did all the right things. So that gives me hope.

"I think this movie does point out, though, that we have to stop acting like casual sex isn't happening, and start to be realistic about what a modern courting relationship is like," Kutcher went on to say.
[From Hollywood News via Huffington Post]
According to Ashton, casual sex is happening somewhere out in the world and in his movies, but not in his own home either in his current relationship (the one he's honest about) or in his "youngest daughter's" relationship. Maybe he should put the smart phone down and take some lessons on public relations. He might be able to make a coherent point.
Ashton, Demi and Tallulah are shown on 10/14/08. Other photos are from 1/11/11. Credit: WENN.com