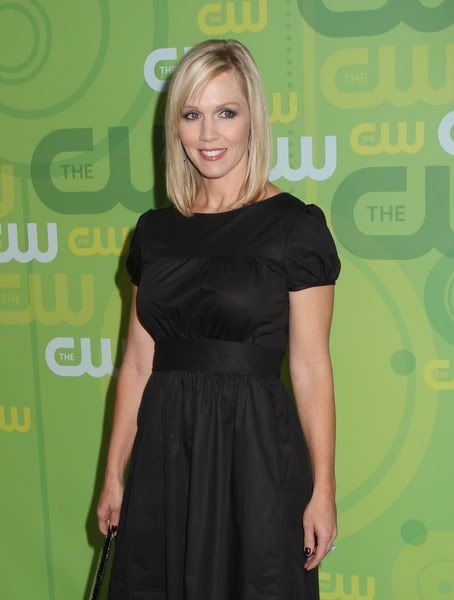 I find the idea of Shannon Doherty utterly terrifying. I mean just looking at her face makes me feel a little ill. Considerably more so when she smiles. The woman was never much of a looker, and being a legendary bitch didn't exactly help her cause much. Doherty was fired from the first version of 90210 after her diva behavior became intolerable – she was consistently late to work, hung over, etc. Basically she was the Lindsay Lohan of her day.
She and Jennie Garth supposedly butted heads more than any other cast mates, which once resulted in a fistfight. So the idea of the two pairing up again had Garth understandably nervous. And while she didn't exactly sing Shannon's praises, she did say that it wasn't as terrible as it could have been. It wasn't as bad as war, death, or terminal illness. So when compared to those things, it was alright.
Jennie Garth admits she was initially uneasy about working with Shannen Doherty again… But when she reunited with Doherty to shoot CW's 90210 spin-off, she tells TV Guide, "It wasn't as bad as I thought it would be.

"I'm not much of a small talker, and I don't think she is either. I was a little nervous because I hadn't seen or talked to her in 14 years," she goes on. "Everyone was making it out to be such a big deal that I think we both fell prey to having that affect us." With their squabbles behind them, Garth says, "I think it will be OK. We're both grown women, both professionals. Once we were working, it felt like a good fit."

Co-star Ryan Eggold, who plays Kelly's new beau on the series, admits "everybody was on pins and needles and sort of waiting to see how they'd react. They started off kind of tentative, but by the time we were five takes in, they were giggling and seemed to be reconnecting," he says.

Garth says she wishes she could reconnect with Tori Spelling, who recently quit the show over salary disputes. Fighting back tears, Garth tells TV Guide, "I know Shannen probably doesn't share the feelings that I have for Tori, but I love Tori like my sister." She says she is encouraging fans to launch a "Bring Back Donna Martin" campaign.
[From Us Weekly]
Tears? Really? Okay to be fair it's not all that cheesy – I often find myself tearing up at the mention of Tori Spelling. Although that's mostly because I've seen some recent pictures of Tori over-sharing her boobs and I have nightmares about what years of silicone implants combined with pregnancy can do to an otherwise lovely body part.
In other 90210 news, rumors are that the new show sucks. This is based wholly on the news that the CW network won't be sending out any screeners of the show, thus leading everyone to believe it must be because it absolutely blows. Though there's an equal likelihood it's just because they don't want the show all over the internet before it even airs. Because it'll probably suck.
Here's Jennie Garth at the 2008 CW Network Upfronts on May 13th. Images thanks to PR Photos.