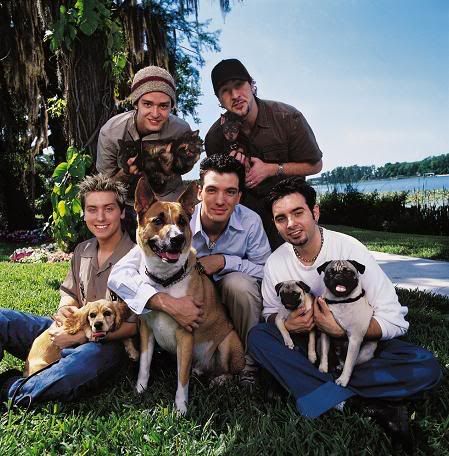 Band reunions are fun. You get to take a bunch of people who used to be popular and are now utterly forgotten, used to have money and are now generally broke, and used to be hot and are now generally sagging – put them on stage together, and see what the hell happens. There are a few exceptions of course.
The Spice Girls were still famous when they got back for their reunion tour. The New Kids on the Block were considerably hotter when they reunited. There was a little talk about the Backstreet Boys reunion, which I assumed hadn't actually happened because I never heard about it again. Turns out they're broke, sagging, and still not famous – because their CD did come out, but that was about it.
Considering the success of the Spice Girls and New Kids on the Block reunions (and I use the term "success" loosely, depending on your own definition), a few of the guys from 'Nsync think it'd be a good idea to get their group back together. Not surprisingly, it's mostly the guy you've heard the least about since they broke up – the one who used to have the spider hair.
First the Backstreet Boys came back with a new album, then New Kids on the Block thrilled devoted fans with their return. Now 'Nsync's Chris Kirkpatrick is the one singing the reunion tune.

"Someday, there'll be an 'Nsync reunion, but I don't think the time is right now," Chris, 36, who's currently appearing on CMT's Gone Country 2, tells OK!.

Even if the band's return isn't definite yet, Kirkpatrick seems hopeful that the guys can get together again somewhere along the road.

"We get along like brothers," he says. "We all love each other — we all care about each other. I'm sure we'll come back."

We can just hear the new single now: "Hello Hello Hello."
[From OK! Magazine]
Reading articles from OK always makes me think of that overly positive/hyper/clueless teacher you had in elementary school who would say all sorts of cheesy things completely oblivious to the fact that all the kids were laughing at her. That last line especially.
Justin Timberlake has been surprisingly quiet on the whole affair. Wonder why. Why in the world wouldn't he want to be associated with a cheesy pop band now that he's got a legitimate career? The other guys have all pretty much faded into the D-list/oblivion. It's a sliding scale. But I'm pretty sure Chris Kirkpatrick is a few steps away from actually falling off the face of the planet. I'm guessing Justin Timberlake doesn't even return his phone calls. He's just like, "Chris who?" and then rolls around naked in a pile of money while singing "I Want You Back."