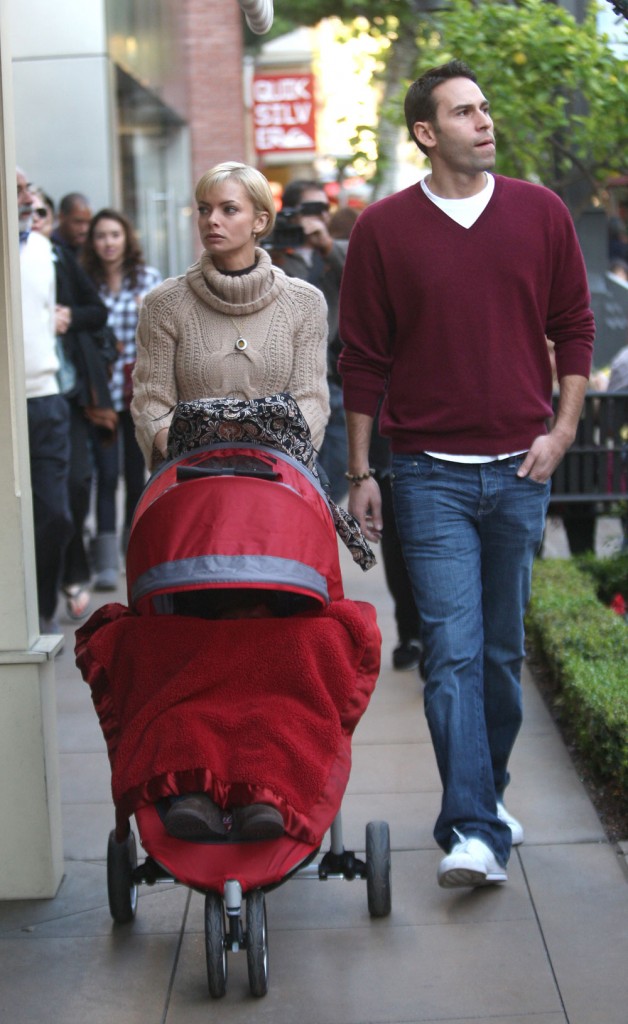 Jaime Pressly may seem like she has it all, but the woman is clearly hurting. She was arrested for DUI earlier this month and now it's coming out that she owes money to the tax man and is breaking up with her husband of just over a year, entertainment lawyer Simran Singh. The breakup story is in this week's In Touch and is unconfirmed for now, but the tax issue is pretty much public record:
Jaime Pressley's January 5 arrest on suspicion of drunk driving in LA adds to an already shaky start to 2011. The 33 year-old My Name is Earl star, who has a 3-year-old son, Dezi, with former fiance Eric Cubiche, is calling it quits with husband Simran Singh. "It was mutual, and she's very sad," says an insider. "But she's trying to focus on her son and getting her life together." – From In Touch, print edition, January 31, 2011

The My Name Is Earl star, who is married to entertainment attorney Simran Singh, is in arrears to the tune of just over $637,000 in Federal and state taxes.

That's according to public records uncovered by The Detroit News.

Here's the break-down. The IRS filed a $260,370 tax lien filed against her on December 6.

This was on top of the $281,699 lien the IRS had filed against her September 8, which was for 2008 income taxes.

And just to round things out, another lien was filed against her by the State of California in the amount of $95,080. That went on the books June 21. – From Radar
[Sources listed in text]
The breakup of her marriage really sucks for Jaime, but it makes me think so much less of her after she got a DUI and failed to pay her taxes. What is wrong with all these celebrities that they can't pay taxes like the rest of us schmucks? According to IMDB she has some projects coming out, and she's also currently starring in some dumb Axe commercials showing guys how to "clean their [sports] balls so they're more enjoyable to play with." I'm serious and I just wasted two and a half minutes of my life watching one of the dumbest double entendres commercials I've ever seen. I hope she had to do it for the money.
Jaime Pressly and Simran Singh are shown out on 12/23/09. Credit: WENN.com. She is also shown in her mug shot on 1/5/11 and at an event on 11/18/09. Credit: Fame