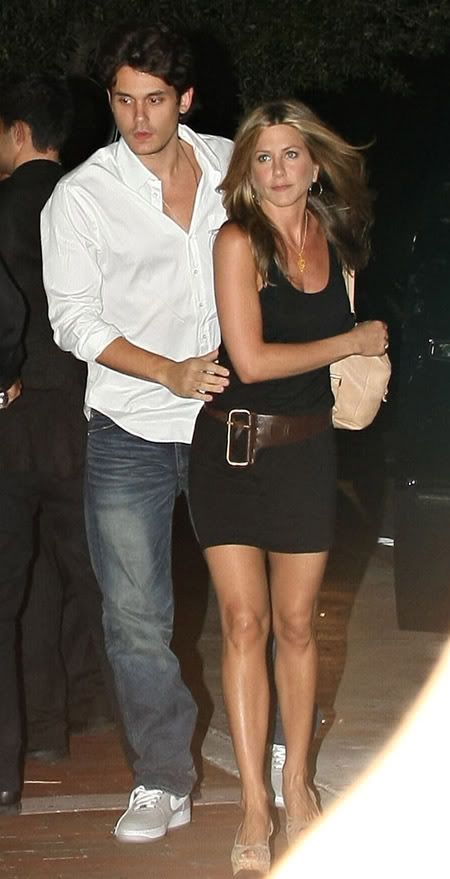 Not all that surprisingly, John Mayer isn't all that big a deal. Actually I guess I should say "not all that surprisingly – except to John Mayer." It's always been pretty obvious that John thinks he's the cat's pajamas. But apparently he thought that by dating Jennifer Aniston he'd somehow magically propelled himself to Aniston-like heights. Unfortunately that's not the case. The pair were paparazzi magic when they were together, but now it's appears John's photog value is about 1% of what it used to be.
You know that gaping hole in John Mayer's heart, the one in the space Jennifer Aniston used to occupy? Mayer has found something to fill it, and it's not another lady — it's the paparazzi. The only problem: Mayer's relationship with the shooters is a one-way street. Mayer might love the attention he gets, but the paps aren't interested in him now that he's no longer with Aniston.

"He thinks he's famous as Jen now. Last week he went to a party, tipped off the paps, and even had decoy cars at the ready when he was leaving," says one paparazzo. "Nice, but no one bothered to follow them, which made John think he 'lost' everyone, when really no one bothered to follow him."

Considering how accessible Mayer often makes himself to reporters, bloggers and paparazzi, news that Mayer's world is no longer a wonderland for the masses might not make sense at first. As it turns out, the explanation is simple: Mayer simply doesn't sell now that he and Aniston have gone separate ways. According to one paparazzo source, "Pictures of him and Jen were selling for $20,000 at one point. A picture of him alone gets $200 now. Chasing him from his apartment to Nobu is hardly worth it."
[From MSNBC's The Scoop]
The Scoop's Courtney Hazlett is the same columnist that had Aniston's side of the breakup story, including details on how she was the one who ended things with Mayer, so it seems like she's probably got an inside source.
Not that I'd ever wish any sadness on John Mayer – he seems to have more than enough on his own – but I'm sort of glad he wasn't able to use the Jennifer Aniston relationship to raise his profile long-term. So he's back to dating everything with two legs and singing mediocre faux-insightful songs. Big deal. Why should that net anything bigger than it did before? If John dated anything less than three different women a week, I could understand how that could/should get some attention. But other than that, why expect a big markup for maintaining the status quo?
Here's John and his hot ride a month ago when everyone still cared. Images thanks to Fame.