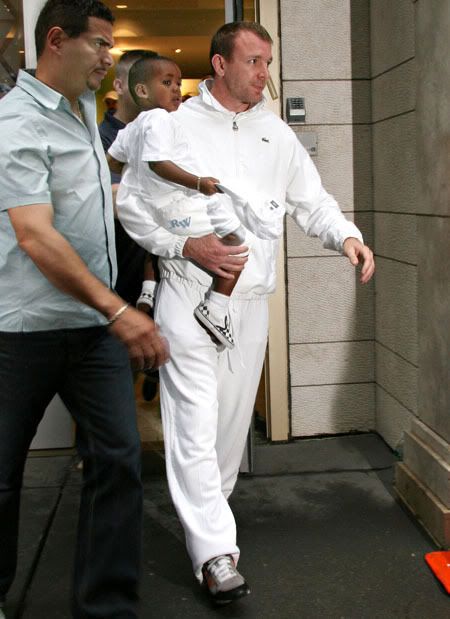 Guy Ritchie out with David on 7/5/08. The pub photos are on The Daily Mail. Credit: MLM/Fame Pictures
I guess Madonna allowed her husband, Guy Ritchie, to re-attach his testicles to his body while she is away on her tour. Guy was spotted leaving a pub at 10 p.m., smiling. The couple's sons Rocco and David were with him along with their nanny. But before you go jumping to conclusions- keep in mind that Madonna and Guy co-own the pub, and it's a short distance from their home.
While Madonna's away, it appears that Guy Ritchie is keen to make the most of his free time.

But does his famous pop star wife know that he's taking the children with him, as he relaxes down the pub?

Guy was seen leaving the Punchbowl pub in London's Mayfair with sons Rocco, and David, who was carried by a nanny as they left at around 10pm.

While wife Madonna has been bumping and grinding onstage in Berlin, Ritchie has been popping into the pub on a nightly basis, with one or more of the children in tow.

But as Ritchie and Madonna actually co-own the pub, it's hardly cause for concern.

However, she may be a little perturbed at the late hour her sons have been keeping, as just the day before, Guy was seen leaving the pub with Rocco at after 11pm on Wednesday night.

But with Ritchie in the driving seat it's more likely that the film director decided to pop in and see how things were going at the Mayfair pub and restaurant.

The Ritchies bought the 18th century pub in February from their friend Greg Foreman, the son of gangster Freddie Foreman.

It is a stone's throw from the couple's home in Mayfair and is frequented by stars such as Robert De Niro, Al Pacino and Barbra Streisand.

Ritchie and Madonna are said to be regulars at the pub in which Ritchie is understood to have a 20 per cent stake.

Meanwhile Guy denied that he and Madonna, who is currently playing to packed houses on her 'Sweet and Sticky' tour, are planning to renew their wedding vows.

He told The Mirror: 'We won't be renewing our vows. I think once was enough. And I've just paid out on a big party for her birthday.'

The director whose new film RocknRolla will soon be released admitted that being married to a world famous pop star can be an issue in his professional life.
In Europe, bringing your kids with you to a bar or pub isn't a big deal the way it is here in the U.S. And as long as Guy wasn't getting plastered in front of the kids, it's probably not a big deal. I just find it interesting that Guy is a lot more friendly and happy-looking when he's out alone. Don't you?