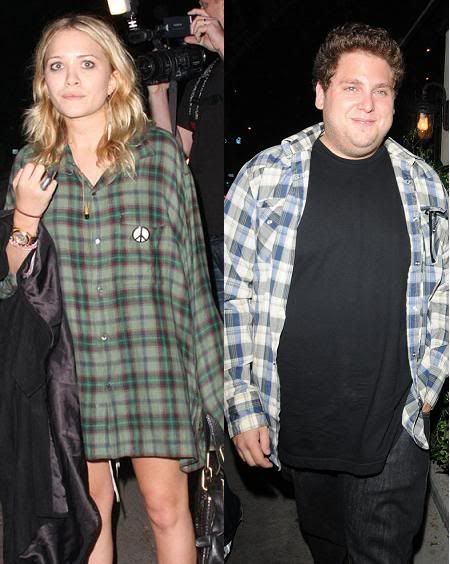 Yesterday I mentioned that there are some couplings that are just so beyond the realm of psychological comprehension that our brains actually block them out. Then we were talking about Michael Jackson and Pamela Anderson. Today it's a slightly less famous – though equally creepy – hookup.
According to the National Enquirer, Mary-Kate Olsen cheated on her boyfriend Nate Lowman by going on a date with "Superbad" actor Jonah Hill. They give an interesting account of the evening which I guess could be interpreted either way, depending on how you wanted to see it.
Mary-Kate Olsen is two-timing her boyfriend with a surprising new guy – chubby "Knocked Up" star Jonah Hill, the Enquirer has learned exclusively. The unlikely couple cozied up to one another at Los Angeles' Chatuea Marmont hotel on Aug. 26 – just one night after the stick-thing actress stepped out to a rock concert with steady beau Nate Lowman.

"It was a shock to see Mary-Kate together with, of all people, geeky Jonah," an eyewitness told The Enquirer. "They were on a double date with another couple, dining at the hotel around 10 p.m. Mary-Kate and Jonah sat close together and seemed totally into each other. They were both wearing plaid shirts that almost matched. It was the cutest thing."

"From what I saw at the Chateau Marmont," said another source, "Mary-Kate had forgotten about Nate and seemed totally enamored of Jonah. And he couldn't keep his eyes off her, either."
[From the National Enquirer, Sept. 15 2008, print ed.]
The magazine goes on to say how it appears that they were both genuinely into each other even though Mary-Kate went to a Radiohead concert with her boyfriend the night before. The Enquirer also repeatedly refers to Jonah's size as "chubby," "tubby," etc, while referring to Mary-Kate's diminutive size a lot too. While it does conjure quite the mental image – and leave a lot of questions about the physics of the thing, it sounds like the date could have been harmless or could have been a real date.
At one point in the evening Jonah saw friend Jason Segal and went over to talk to him. Supposedly Segal was genuinely surprised to see the two together and asked Hill how he got Olsen to agree to go on a date. Hill responded that all he did was ask her. Assuming the story is correct, it sounds like it could have been a date, but that doesn't mean Mary-Kate was cheating on her boyfriend. They could have an open relationship, they could have quietly broken up, or it could have just been a friendly evening.
Here's Mary-Kate Olsen leaving the Radiohead concert the night before her date with Jonah – wearing what I hope to God is her only plaid shirt. Header of Jonah Hill at Crown Lounge on August 27. Images thanks to WENN.