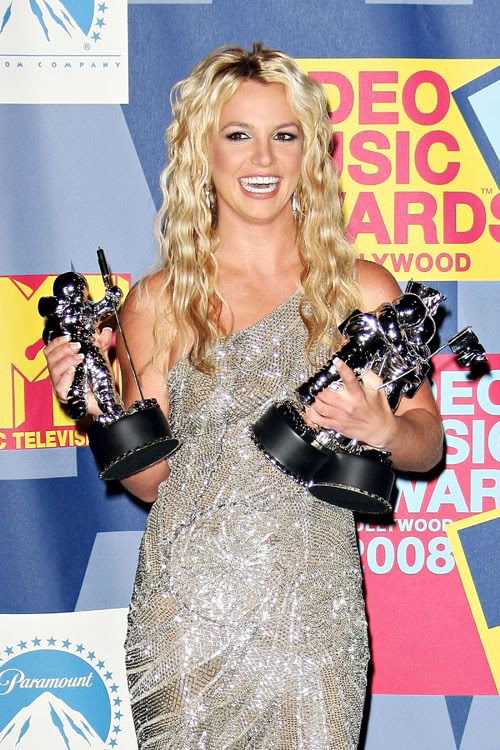 Britney did the wisest thing possible and just opened the 25th MTV VMAs with a semi-lame pre-recorded skit with Jonas Hill. (Video is below.) She didn't perform as was widely anticipated (and denied) and the camera just followed her as she walked from her dressing room onto the stage and announced the opening of the awards, the microphone close to her face and her voice breaking at points. Rihanna then performed Disturbia, rolling out on a huge staircase clad in thigh high boots and surrounded by jerky glowstick-yielding zombie dancers.
Britney also won an inexplicable three VMAs despite the fact that there are much more deserving artists. The music career she's attempted to revive has also taken backseat to her much talked about personal life. She took home the Moonman for Best Female Video, Best Pop Video, and Video of the Year for "Piece of Me." The video was about her tabloid trials, and maybe MTV was honoring that, but it seems over the top to give her three awards for it. They did accept fan votes for all categories, but the votes didn't determine the winner for any category except "Best New Artist," and were merely taken into consideration.
Britney was the big news of the night just for being herself again, and she was given an "A" for effort. Frenetic comic Russell Brand was a decent but not outstanding host by most assessments, with his politically-charged opening skit only mildly funny and a little offensive. Pink is said to have given a strong performance of "So What," and T.I. and Rihanna's song was also good:
Spears nabbed three VMAs, including video of the year, erasing last year's career-low performance. Her first Moonman trophies came during a 25th anniversary show that otherwise lacked a defining moment, with most of the zaniness coming from host Russell Brand.

"Wow, thank you, I'm in shock right now. I was not expecting this," Spears, looking spectacular in a shimmering silver dress, said as she accepted her third trophy of the evening for "Piece of Me."

Spears kept all three of her acceptance speeches short.

"This is such an honor to have this award right now," she said. "I want to thank my fans, this is dedicated to you…"

Spears did provide a few laughs during a pre-taped comedic segment with "Superbad" actor Jonah Hill that preceded the live telecast. There were a few more laughs during comedian Brand's opening monologue, but the celeb audience seemed more nervous than amused, as the frenetic Brit took aim at Madonna, the virginity of teen sensations the Jonas Brothers and President Bush, whom he called "a retarded cowboy fellow."

He clearly got under the skin of one celebrity, however, with his jokes about promise rings, which the Jonas Brothers wear to signify their virginity. Another famous promise-ring wearer, Jordin Sparks, said before giving out one award:

"I just wanna say, it's not bad to wear a promise ring because not every guy and a girl wants to be a slut, OK?" she quipped.

Afterward, a somewhat contrite Brand apologized to a stone-faced Jonas Brothers, saying, "I didn't mean to take it lightly" before adding, "a little sex once and a while never hurt anybody."

Though the VMAs have been defined by zany, wild moments in the past — the Michael and Lisa Marie kiss, the Britney-Madonna kiss, Prince's butt-out jeans just to name a few — there were more head-scratching moments than outrageous ones at the sprawling Paramount Studios lot…

Pink gave perhaps the show's most rousing performance, a pyrotechnic-fueled performance of her new song, "So What."

T.I.'s performance was also noteworthy, since the last time he was due to perform at an awards show, he was arrested instead. At last year's BET Hip-Hop Awards, he was accused of trying to buy machine guns and silencers (he was sentenced earlier this year to serve about a year in prison after completing at least 1,000 hours of community service).

He performed a new song with Rihanna, who also appeared on last year's show. But the dazzling singer from Barbados is hardly in need of any second chances, coming into the VMAs as one of music's hottest acts thanks to her two No. 1 hits of the summer, "Take a Bow" and "Disturbia."

Closing the night was Kanye West who, like Spears, was hoping for a second chance after a disappointing VMA experience last year. In Las Vegas, he had a Kanye-sized hissy fit backstage and vowed never to appear at the VMAs again after he didn't get a Moonman trophy despite several nominations.

This time, he had a stage all to himself, but he still may have reason to be miffed: he won no trophies during the ceremony, and, appearing after Spears accepted her third and final trophy of the evening, may have been more of an afterthought.
[AP via OMG.Yahoo.com]
What bothers me about all this Britney worship is that artists like Rihanna, who have consistently put on very solid shows, who keep their head down and don't get into trouble, are not honored in the press for just doing a damn good job. Of course we're happy that Britney is well enough to make an announcement and accept some awards without incident. Let's move on now and think about all the people who worked hard to make it to the VMAs, only to be overshadowed by Britney's sobriety. Good job though, Britney.
What do you guys think? Does Britney deserve so much credit?
Here are some highlight videos of the night. They're courtesy of MTV and do include commercials, but props to MTV for making them embeddable. We'll have some more videos and photos shortly.
Britney's opening skit with Jonah Hill:

Britney opens VMAs with announcement:

Rihanna does "Disturbia," the first performance:

Russell Brand's opening monologue. I laughed once:

Britney gets Best Female Video:

Photo credit: Fame Pictures