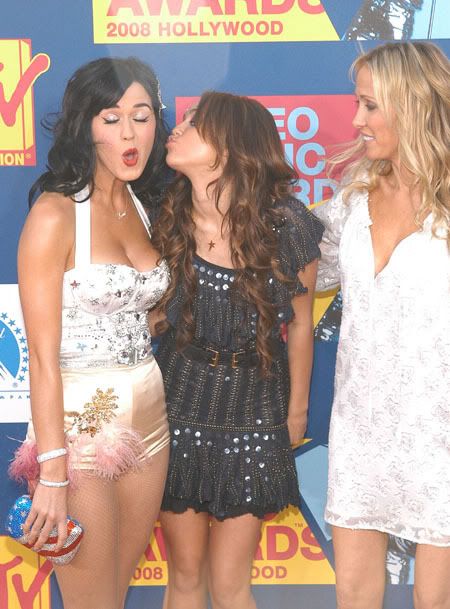 Lindsay Lohan hit the fake tanner again before her presenting gig at the MTV VMAs last night. She wore a tight short purple long-sleeved dress with matching strappy heels, and sported new brown lowlights in her wavy hair. Her makeup was overdone and she looked a little dirty and more like the old Lohan rather than the pale-faced content version of recent months.
Paris Hilton donned a plum and black strapless dress with a poofy skirt. Her black heels with bow ties only seemed to emphasize her huge feet.
Christina Aguilera's Elvira look is definitely a step down from her vampy 40s pinup persona. Her flat hair is decent, but that eye makeup has got to go. Halloween is once a year, and the Elvira look is overdone enough on that holiday.
Pink looks ridiculous in that orange and gray striped tent dress with spiky off white hair.
Everyone is kind of pushing the envelope with their outfits, but I guess that's what the VMAs are for.
Also shown on the red carpet are Ashlee Simpson, Ciara, Miley Cyrus and Katie Perry, Chace Crawford, Zac Efron, Fallout Boy, The Jonas Brothers, Chris Brown, Pink, Kid Rock, T.I. and Tiny, Tokio Hotel, Rihanna, Audrina Patridge, Heidi Montag and Spencer Pratt, Lauren Conrad, Ne-Yo and Cee-Lo.
Photo credit: WENN and Juan Rico/Fame Pictures