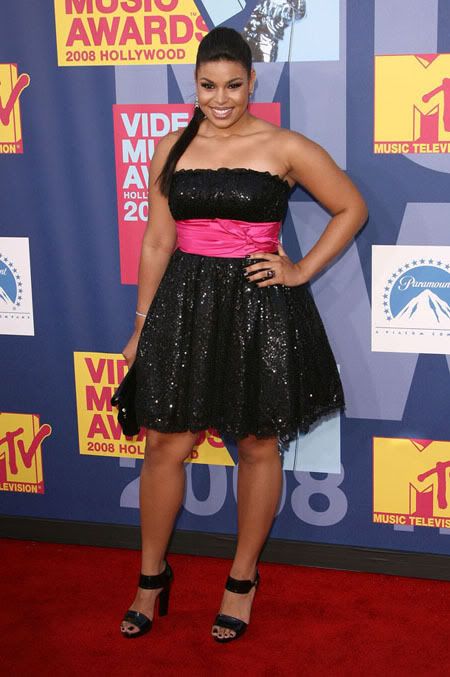 After MTV VMA host Russell Brand poked fun at the Jonas Brothers for their purity rings, American Idol winner and VMA nominee Jordin Sparks, who apparently also wears one of these rings, defended them. Brand pointed out that the three brothers could probably have sex with any woman they wanted right now, but choose not to. He also joked that his goal was to have sex with all three of them by the end of the night. Jordin didn't think that was funny.
Before presenting an award with John Legend, she said: "I just have one thing to say about promise rings. It's not bad to wear a promise ring. Because not everybody – guy or girl – wants to be a slut."
I didn't think anything Russell Brand said was funny – but he wasn't offensive, either. I think it's silly that so many of these young stars tout their virginity in the first place. It's not really anyone's business, and half the time it turns out to be a joke anyway. Remember Britney's virginity pledge? And does anyone really believe that Miley Cyrus is a virgin? Please. Still, it's cool that young people like Jordin are choosing not to sleep around and act like total hobags, like Paris and Lindsay have done. But when you go on record claiming that you're a virgin and wear special rings, you'd better be willing to walk the talk or you look like a joke. Right, Bristol Palin?
Picture note by Celebitchy: Here are Jordin Sparks and The Jonas Brothers at the VMAs last night. Credit: Juan Rico/Fame Pictures. I also included a screenshot from purityrings.com, which I just found by a search, because I was interested in seeing what the rings look like.