Kirsten Dunst has framed copy of Scientology's code of honor in her house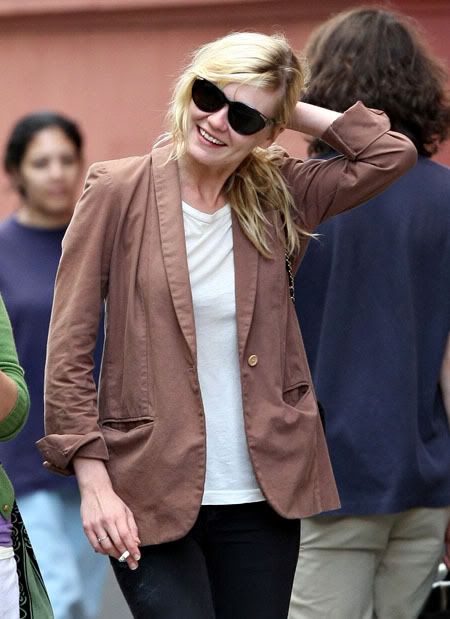 Kirsten Dunst has been seen out reading Karl Sagan, the late scientist whose book Demon-Haunted World is a practical treatise against everything Scientology stands for. It doesn't seem like the 26 year-old actress really understands Sagan's logic (which is clearly outlined here if you're interested). She reveres the teachings of Scientology so much she has a framed and laminated copy of Scientology's code of honor, which its founder, baby-napper and wife-beater L. Ron Hubbard, doesn't seem to have heeded much in his personal life. The code was a gift from Tom Cruise, so it's not like she personally had it framed though. That's the kind of gift that you keep in the back of the closet and only take out when the person is visiting.
Dunst graces the cover of Harper's Bazaar, which includes the detail about the Scientology code in their accompanying interview:
"Everyone goes through a hard time in their life," Dunst says in the October issue of Harper's Bazaar. "They just don't have to do it in front of tons of people and with our media the way it is. I did, and I'm lucky that I had the resources and the money to take care of myself."

She adds: "Now, I'm great."

Though she hesitates to go into details about her stint at Cirque Lodge, a rehabilitation center in Utah, Dunst says prior to going to rehab she was "enormously co-dependent."

"I wasn't taking care of myself emotionally. I wasn't expressing my anger," she says. "I was making nice all the time."

She even got words of wisdom from an old pal – Tom Cruise. The actress keeps a plastic-framed copy of L. Ron Hubbard's Scientology Code of Honor in her home, which was recently given to her as a gift from her former Interview with the Vampire costar.

The 26-year old is not a Scientologist but appreciates the advice; something she can use as she develops her own projects, including a documentary called Why Tuesday? about the electoral process. She also stars in the upcoming comedy How to Lose Friends & Alienate People.

On the home front she's busy, too. The actress is selling her LA home and says she will be in her apartment in New York City, which she purchased in 2007, in a year. And her love life?

"Listen, I'm happy single or not single," she says. "Now I love me, so I'm okay."
[From People]
We're not big Dunst fans, and she didn't have to do much more to thoroughly annoy us. If Tom Cruise gave you some Scientology paraphernalia after you worked with him as a child actor, wouldn't you ditch it once you realized what it really stood for? Maybe she never put two and two together.
Some of L. Ron's pearls of wisdom in that code of honor vary from the ethically questionable: "Never fear to hurt another in a just cause" to the baffling: "Never permit your affinity to be alloyed."
Here's Dunst out with Justin Long on 9/1/08 despite claiming in the Bazaar interview that she "doesn't know him from Adam." As someone pointed out in the comments, it's possible she hadn't really started dating him at the time the interview was conducted, although I wouldn't put it past her to fib like that.
Written by Celebitchy

Posted in Cults, Kirsten Dunst

- Who butchered the National Anthem? [D-Listed]
- Rob Lowe never ages [Lainey Gossip]
- What is Vanessa Hudgens wearing? [Go Fug Yourself]
- Summer guide to reality TV [Reality Tea]
- Game of Thrones recap [Pajiba]
- Tan Mom's music video [Buzzfeed]
- Amanda Knox is broke [Starcasm]
- Backstage at the Billboard Awards [Popsugar]
- Miley is still stuck in the 90s [Popoholic]
- Blind Items revealed: Adam Levine [CDAN]
- Hugh Hefner bought Crystal Harris a house [Celebslam]
- What happened to Aimee Teegarden? [The Blemish]
26 Responses to "Kirsten Dunst has framed copy of Scientology's code of honor in her house"