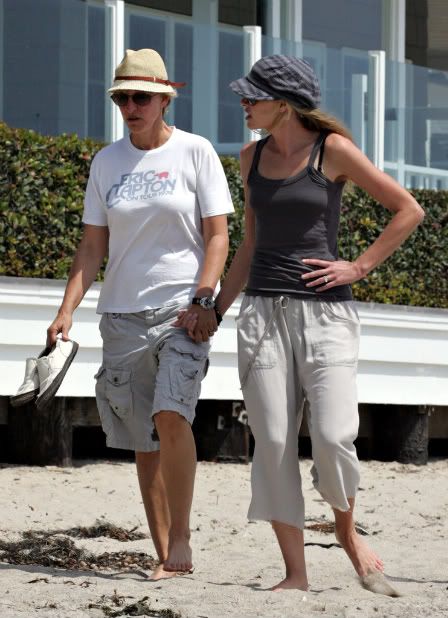 Ellen DeGeneres and wife Portia de Rossi were originally planning quite the spectacle of a wedding. Nothing crazily over the top, but certainly not the low-key affair they ended up going with. It was reported that they were planning a lavish event and their guest list was so huge, "my gardener is invited," according to Ellen.
In the end it wound up being just 19 guests that were just close friends and family. What led to Ellen and Portia's change of heart? Justin Timberlake. And Ryan Seacrest convincing the pair not to have him sing at their wedding. Naturally.
Ellen DeGeneres says Ryan Seacrest played a hand in keeping her August Beverly Hills wedding to Portia de Rossi "lovely and small." Originally, Justin Timberlake was going to perform a new song he penned for the two. "That made it get bigger," DeGeneres said Wednesday on Seacrest's KIIS-FM radio show. "We said, 'He can't just sing for our Aunt Helen from Mississippi! We got invite some more!'"

George Michael was going to sing as well. "It just got bigger and bigger," DeGeneres said. "It was going to be gigantic, and Ryan talked us out of it." Explained Seacrest: "'Are you sure you're going to be comfortable with elephants on your grass?' I truly believe people get carried away with the volume of the wedding that they don't enjoy the purpose of the wedding."

"It started from the wrong place," DeGeneres later admitted. "We called and disinvited everyone. They totally understood."
[From Us Weekly]
I never thought I'd say this seriously, but that was some classy advice Ryan Seacrest gave. Joshua Radin ended up playing instead. And as great a singer as Justin Timberlake is, Radin is a little more quiet and folksy, which definitely fits together nicely with their smaller wedding theme.
Whoever thought someone like Ryan Seacrest would give such down to earth advice? He's right, even non-celebrity weddings have gotten out of control lately. When your event has gotten so big that you have elephants wandering around, it's time to take a step back and re-evaluate if that's what you really want. If so, more power to you. But it's nice that he was able to phrase it in a way that was sort of a question instead of just saying, "I think this is getting crazy big." Which is exactly how Seacrest would phrase it. Now I almost hate him a little less. Almost.
Here's Ellen and Portia on the beach in Malibu on August 31st. Images thanks to Fame.