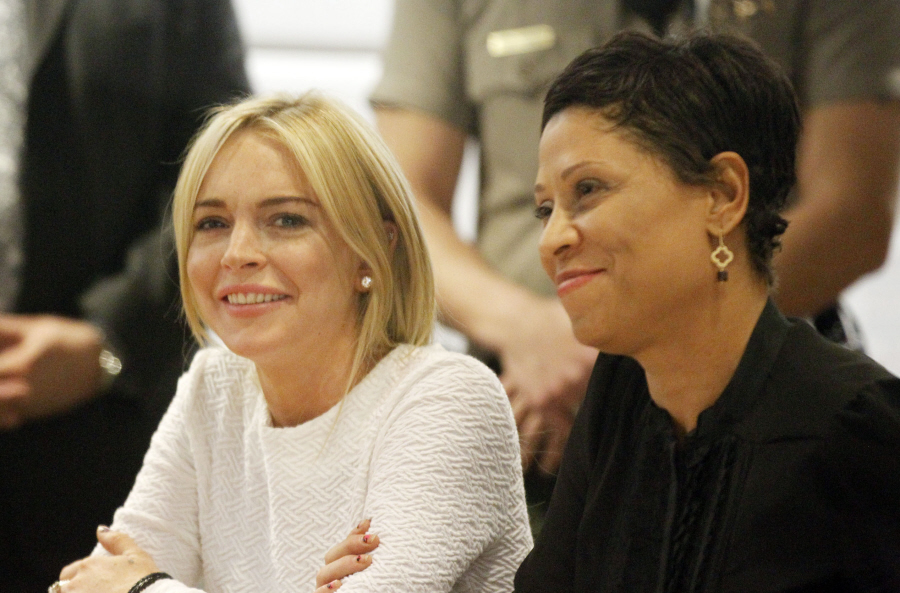 Lindsay Lohan has a cracked-out hearing today. She's appearing before a new judge today, Judge Keith Schwartz, and I honestly can't remember if this hearing if for the theft or if it's just for her old probation issues. I think it's just for her probation, although TMZ reports that the cracked-out jewelry heist will play a part in the negotiations. That's right, there are negotiations going on – apparently the DA, Lindsay's nemesis, Danette Meyers is offering Lindsay a plea that would involve jail time plus three years felony probation. Lindsay and her lawyer Shawn Chapman Holley are all "The Crackhead must NEVER go to jail!!"
The judge who will determine Lindsay Lohan's fate in the probation and grand theft cases will be the middleman in plea negotiations today between Lindsay and the prosecutor … and sources connected with the case tell TMZ … the judge thinks Lindsay should do time.

Lindsay will appear today before Judge Keith L. Schwartz, and sources connected with the case tell TMZ that during the hearing prosecutor Danette Meyers will present Lindsay's lawyer, Shawn Holley, with a formal offer to plea bargain the case.

Sources tell us Meyers has already told Holley any deal will include significant jail time … but Lindsay steadfastly refuses to accept a plea that involves time behind bars.

Sources connected with the case tell us Judge Schwartz will propose that Lindsay accept jail time for the probation violation and three years felony probation for the grand theft case. But here's the BIG problem with that — if Lindsay gets in trouble during the probationary period, she'll go to state prison.

We're told Holley has not seen the surveillance video yet, but Meyers will present her with her very own CD tomorrow — before the hearing.

If Lindsay doesn't accept a plea, the judge will set a date for a preliminary hearing.
[From TMZ]
I don't know what to think. I'm beyond hoping that Lindsay will go to jail for any serious amount of time, although I do find myself having a smidgeon of hope that there will be some stunning sentence handed down that will make the crack tears flow like tequila shots on Cinco de Lohan (5pm any weekday).
Meanwhile, People Magazine is even calling Lindsay out on her crack-BS, noting how often Lindsay has been partying over the past week:
Explanations? Or excuses? Through Twitter, Lindsay Lohan has issued disclaimers when the paparazzi have caught her out in the wee hours at – or near – clubs. Just what she's been doing post-rehab is important since the actress, 24, needs to put her best face forward in her ongoing court appearances for her grand theft case, stemming from the $2,500 necklace she's accused of stealing.

Already on probation in a DUI case, the last thing Lohan needs is for the judge to see her as an unreformed party girl. A violation of her probation could send her back to jail.

Lohan's nocturnal activities began on Grammy night when she attended a Nivea bash in Beverly Hills. "She didn't stay long at all, but the party started late at night," a source tells PEOPLE. Lohan was next spotted leaving Hollywood's Roosevelt Hotel with Samantha Ronson after midnight Thursday.

She later Tweeted, "I was just at roosevelt to meet Samantha and say happy birthday to a friend. i take my sobriety seriously. please dont believe this accusations. i know the rules and i wouldnt risk probation."

Then on Friday night, Lohan hit up an NBA All Star party at Station Hollywood where a source says, "She arrived on the late side with an entourage of six."

The next night, Saturday, Lohan took in a show at Hollywood's Hotel Café where her pal Ferras performed. After getting photographed again, she wasted no time Tweeting why she was out and about.

"Went to see my friend @ohferras perform and was talking to a future costar – just to be bombarded by paparazzi," Lohan wrote. "So much for being normal – im now winded and headed home."

The purpose of Lohan's hearing Wednesday is to see if the theft case can be settled with a plea deal. The L.A. County Probation Department is expected to submit a report on Lohan's probation status. If a plea cannot be reached, a new court date will be set.

Lohan's mom Dina, sister Ali, and brother Michael Jr. have recently flown into Los Angeles, reportedly to be by her side for the court appearance.

"Lindsay wants her mom here because she is a bit bored," a source tells PEOPLE. "She is also nervous about court this week because her lawyer can't guarantee that she won't have to do jail time."
[From People]
Oh, Crackhead Junior is BORED. Let's try to mix things up, shall we? Also: is anyone else slightly disturbed with the idea that Michael Junior and Ali had to fly into LA for the court appearance? There are several things wrong with that. First of all, I didn't know Ali wasn't living in LA. She lives in NY? She's like, 15 or 16, right? And Dina is always in LA – so who is taking care of Ali? And you never hear about Michael Junior. You know that boy is screwed up. I mean, you just know it. Also: why are this collection of crackheads only have family reunions in courthouses? Ugh. Poor Ali.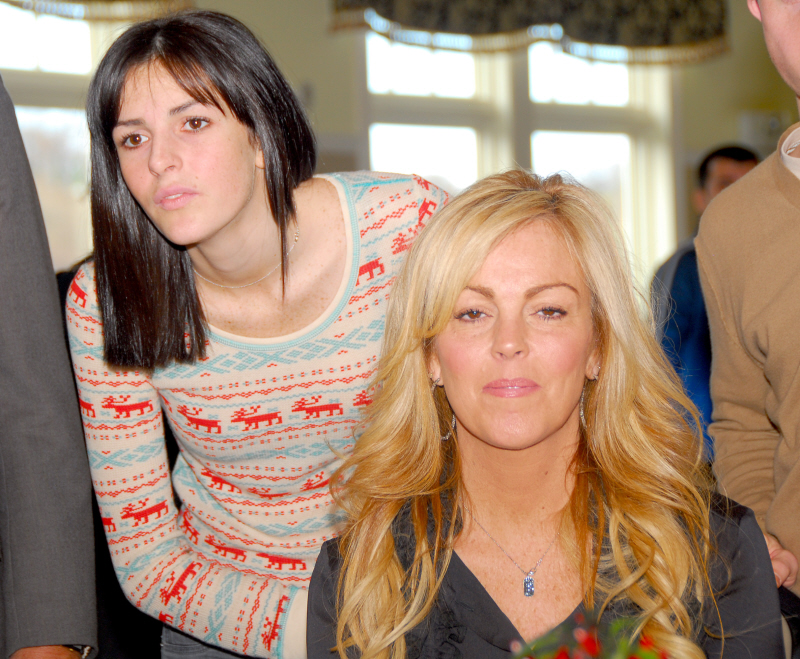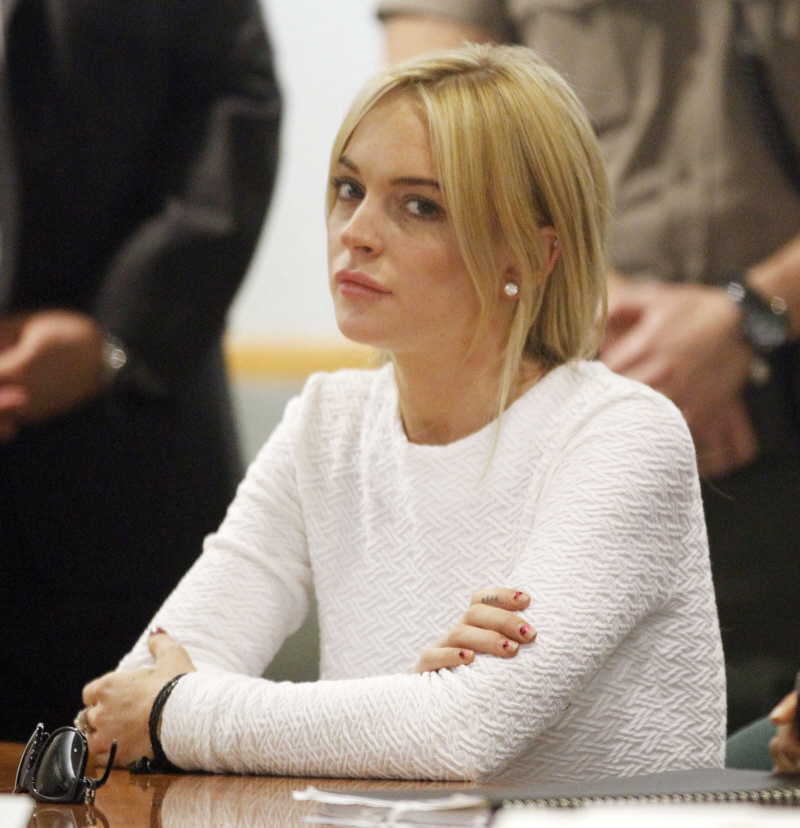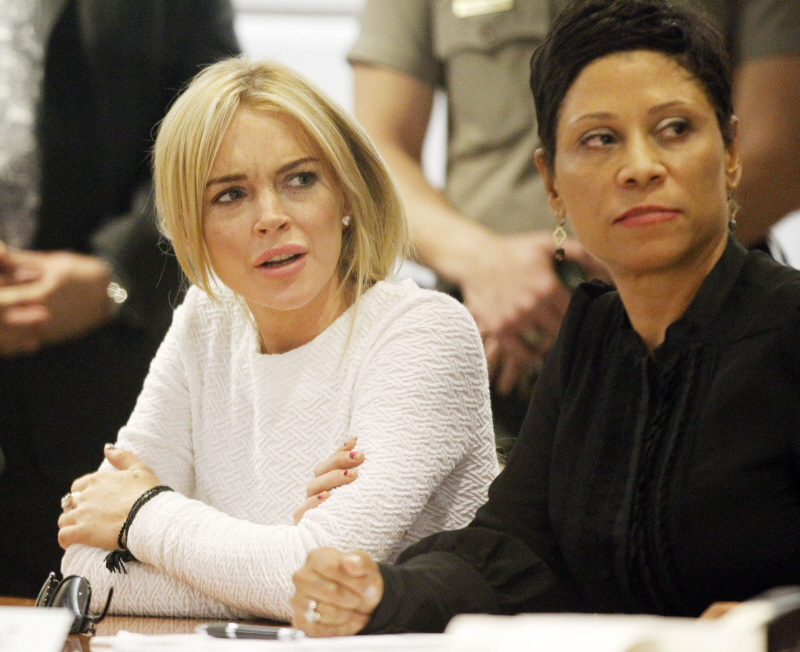 Photos courtesy of WENN.